A voice for Ballarat's LGBTIQA+ communities | ourballarat Summer 2021-22
For the first time, LGBTIQA+ community members and allies will have a regular opportunity to provide a direct voice to council. The City of Ballarat's inaugural LGBTIQA+ Advisory Committee will help shape a healthy and inclusive future for our entire community.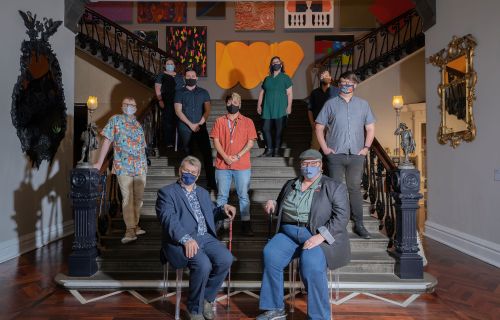 Meet our new LGBTIQA+ Advisory Committee community members.
The City of Ballarat's Lesbian, Gay, Bisexual, Transgender, Intersex, Queer/ Questioning, Asexual (LGBTIQA+) Advisory Committee will provide support and information to council on behalf of the community.
Advisory Committee member Belinda Woodruff says diverse representation is an essential component for thriving, healthy and respectful LGBTIQA+ communities.
"All councils have a social responsibility to offer their LGBTIQA+ communities the chance to be heard, to shape the future by developing guidelines for an open and inclusive place to influence a framework which promises a future of equality and representation from an authentic, inclusive community value system.
"This is not a unique concept but rather should be viewed as best practice in genuine community representation."
Asha Buckmaster, who represents Central Highlands Primary Care Partnership on the Advisory Committee, says the committee provides a voice to diversity and inclusion.
"I am keen to ensure that the City of Ballarat hears directly from a diverse range of LGBTIQA+ people about ways in which council can act to improve safety and inclusivity for and celebrations of the local LGBTIQA+ community."
The committee will provide feedback and advice to the City of Ballarat on items that impact LGBTIQA+ communities. This will include advising on communication, engagement and consultation with LGBTIQA+ communities, and identifying ways to continue to build community cohesiveness, inclusivity and pride in Ballarat's diversity.
To achieve these outcomes, the committee will help to develop the City of Ballarat's LGBTIQA+ Action Plan and monitor, review and evaluate the ongoing implementation of its strategies.
City of Ballarat Council Plan Alignment
The projects, initiatives, and ideas in this article align with the following goals of the City of Ballarat Council Plan 2021-2025:
Goal 2
A healthy, connected and inclusive community
Goal 6
A Council that provides leadership and advocates for its community