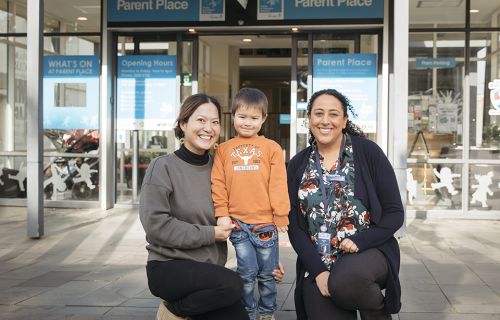 Parent Place is open between 9.30am and 2.30pm, Monday to Friday. Families can visit Parent Place to feed and change their babies, get information and have a play! 
Our friendly team can give you general support and information on services for families with young children.
You can still call or email us for information about: 
playgroups
kindergarten
Maternal and Child Health
immunisation
childcare
family day care 
Parent Place helps families with young children to thrive, providing helpful information and community connection in an inclusive and safe space. Everyone is welcome.
Parent Place Outreach
The Parent Place Outreach Schedule is available for Delacombe, Sebastopol, Lucas and Wendouree locations.
The Parent Place Outreach sessions are, excluding public holidays: 
1st Friday of each month – Delacombe Salvation Army | 104 Greenhalghs Road, Delacombe 
2nd Monday of each month – Sebastopol Library | 181 Albert St, Sebastopol 
3rd Tuesday of each month – Lucas Community Hub |17 Coltman Plaza, Lucas 
4th Thursday of each month – Stockland, Wendouree | Norman Street & Gillies St North, Wendouree VIC 
Enjoy free activities, a safe, inclusive place to play, and the opportunity to find out about services and support for families with young children, including kindergarten registration, playgroups and more.
The Parent Place Facilitator will remain available during this time for any questions or support.
Contact Parent Place staff via Facebook Messenger or phone (03) 5320 5165.
Boredom busters!
Keep your little ones occupied at home with help from our boredom busters activity worksheets. Download a copy to your computer or tablet, print them out or keep them on your device to refer to.
With ideas to keep them active and moving, cooking ideas and websites to check out, you'll be able to keep them going with activities from our kinder and long day care educators.
Where can you find us?
Corner of Sturt and Albert Streets, Ballarat.  
Volunteers
Parent Place is run by our Family and Children's Services staff and supported by an energetic and passionate team of volunteers.
New volunteers are welcome. Call Parent Place on 5320 5165 for more information about becoming a volunteer.