Ballarat Libraries
Ballarat Central Library is temporarily moved to Ballarat Town Hall while redevelopment works are conducted at the Doveton Street library building. See more below.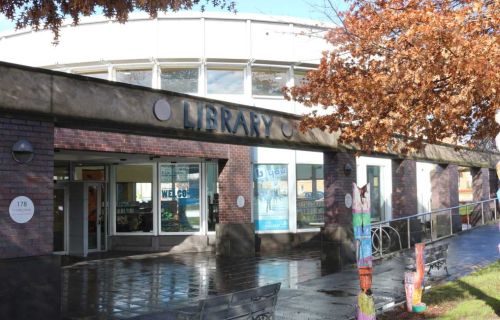 New temporary library location
Ballarat Town Hall is set to be transformed into a pop-up library while redevelopment works are conducted at the Central Ballarat Library on Doveton Street. 
Ballarat Library at Town Hall opened on 10 November.
It is expected the Ballarat Library at Town Hall will be in use for about 12 months while the project is complete. 
The Sebastopol Library and Wendouree Library remain open as usual, and their opening hours and locations can be found below. 
Read more about the library development or read the Frequently Asked Questions.
Opening hours for our libraries
Ballarat Library at 178 Doveton Street is closed for redevelopment 
Festive Season Opening Hours
Ballarat Library at Town Hall and Wendouree Library will close from Christmas Day and will reopen on Tuesday 2 January 2024. 
Sebastopol Library will be closed on Christmas Day and Tuesday 26 December and will reopen on Wednesday 27 December at 9.30am. The Sebastopol Library will also be closed on Monday 1 January 2024.  
The Library Outreach Service (Buninyong, Lucas and Delacombe) will be closed from Saturday 23 December and will recommence from Tuesday 30 January 2024.  
Online services will be available during this time, including the library's downloadable collection. Full details are available at centralhighlandslibraries.org.au  
Regular Opening Hours
Ballarat Library at Town Hall
This venue does not have an after hours return chute.
Monday-Friday 9am - 5pm
Saturday 10am - 4pm
Sunday 1pm - 4pm
Sebastopol Library 
Monday 9.30am-5pm 
Tuesday 9.30am-5pm 
Wednesday 9.30am-5pm 
Thursday 9.30am-8pm 
Friday 9.30am-5pm 
Saturday 9.30am-12pm 
Sunday Closed 
Wendouree Library 
Monday to Friday 9.30am-5pm 
Saturday 9.30am-12pm 
Sunday Closed 
Library Outreach 
Tuesday, Lucas Community Hub, 10am-12pm
Thursday, Buninyong Community House, 2pm-5pm 
Friday, Salvation Army at Delacombe, 10am-12pm 
Due to the ongoing impacts of COVID-19, it may be necessary to temporarily close our libraries at short notice, or to modify our opening hours due to unavoidable staff shortages. 
We understand this can be frustrating and we thank you for your patience and understanding.
Our e-resources can be downloaded at any time. 
Patrons are encouraged to check the library website for service updates.
Branch and program updates
Fine Free Libraries
From 1 July 2023, City of Ballarat libraries will no longer charge library fines for overdue items, following a decision made by Ballarat City Council at the March ordinary meeting. 
This follows a growing trend across Victoria in which public libraries are opting to remove library fines relating to overdue items, due to the financial impact on borrowers. 
From July onwards, anybody who returns any overdue City of Ballarat library items, regardless of how long they are overdue, can return them without any further questions and without incurring any fees. Charges for lost and/or damaged library items will still apply. 
As an act of goodwill, community members are asked to consider donating non-perishable food throughout June to contribute to the Ballarat Foundation's Winter Appeal.
Home Library Service
A limited service will continue. Not taking new clients at this stage.
Storytime
Storytime is available at all library branches and outreach locations. See the library website for session times.
Technology Q&As
Sessions are available at all libraries and bookings are required. You can book Technology Q&As online, over the phone or in person at any library.
Computer access
Public computers are available at Ballarat Library at Town Hall, Wendouree and Sebastopol Libraries.
Photocopying, scanning and printing is available at all libraries. Fees and charges apply.