Glass recycling
Recycling in Ballarat changed in 2019 and our recycling company is unable to take glass to recycle. To keep recycling glass, we have a local contractor who can recycle glass for us. To recycle your glass, you will need to keep glass out of the yellow-lidded kerbside recycling bins and take your glass recycling to a Pass on Glass site in Ballarat. Please remove the lids and, if possible, labels off all glass bottles and jars before taking them to a Pass on Glass site.  
Changes to Kerbside Bin Collections are coming
Ballarat is getting a new system for kerbside bin collection.
Where are the Pass on Glass sites?
It is FREE to take your glass to any of the Pass on Glass drop-off sites, located at:
Ballarat Transfer Station, 119 Gillies Street South, Alfredton (no waste voucher needed). 
Coltman Plaza Shopping Centre car park 
Eastwood Street Shopping Centre carpark (south west corner) near the Ballarat Police Station
Bradbury's Lane, Bakery Hill
Midvale Shopping Centre, 2/1174 Geelong Road, Mount Clear  
Buninyong Recreation Reserve, Buninyong (please be aware of restricted  access during Buninyong Football and Netball Home Games)
Ballarat Greyhound Racing Club, Rubicon Street entrance near bus exchange
Miners Rest General Store, Miners Rest
Stockland Wendouree near MyCar service centre
Map of Pass on Glass sites
Where does my glass go?
About half of your Pass on Glass material is broken down into fragments (called glass cullet), washed, and sorted by colour at a specialised facility in Melbourne before being processed to make more glass bottles and jars.
The other half is kept locally to be crushed to glass fines (sands) or aggregate mix, and used for local trials in road and concrete construction projects. 
Rinsing and removing lids helps minimise processing costs by allowing more uses and reducing wastage.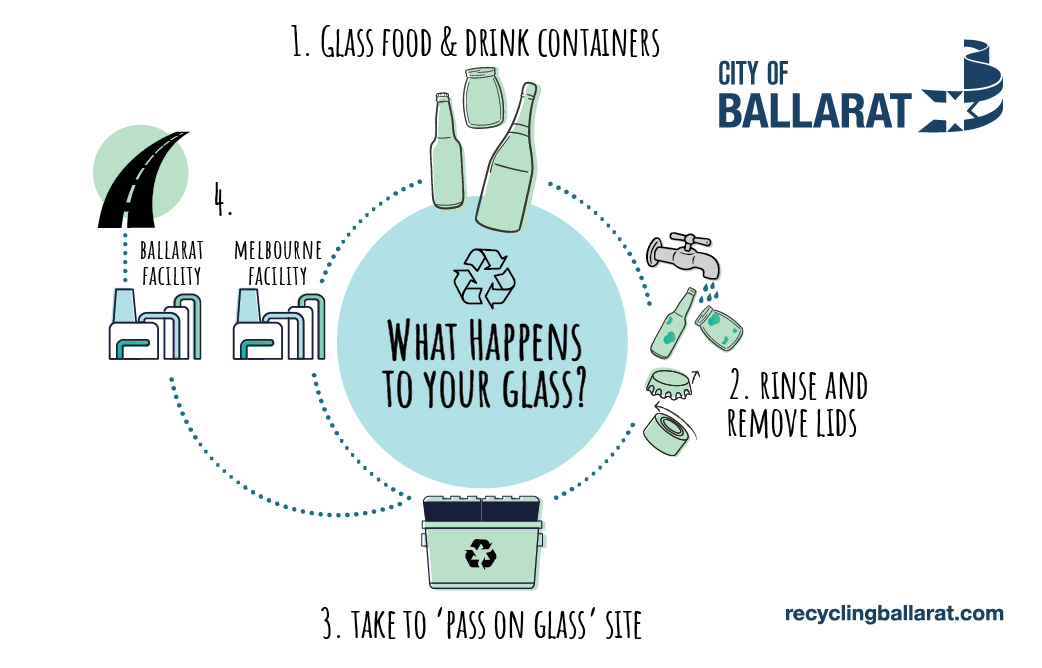 More information about the recycling change