Electronic waste
Electronic waste, or eWaste, is any item with a plug, battery or power cord that is no longer working or wanted. It covers a whole range of items from phones and refrigerators to fluorescent light tubes.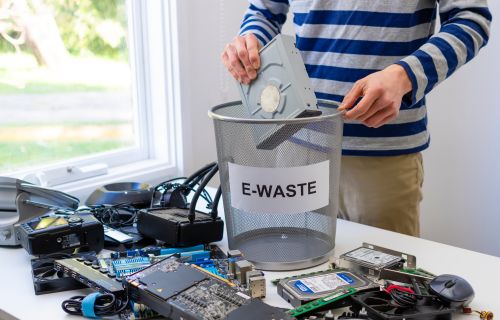 Where can I take my eWaste?
All types of eWaste can be taken to the Ballarat Transfer Station.
Residential amounts of televisions and National eWaste Scheme products* are accepted free of charge. A small cost applies to larger items and commercial loads of televisions and small items. See our transfer station waste prices for details. 
Small batteries, mobile phones and light bulbs may be taken to the Phoenix Building, 25 Armstrong Street South, Ballarat Central, free of charge.
Small batteries, mobile phones and other small electronics items such as keyboards, computer mice and radios are accepted free of charge at the Ballarat Central Library, 178 Doveton Street North, and Wendouree Library, Stockland Shopping Centre, Gillies Street North.
*National eWaste Scheme items:
all televisions, such as CRTs, plasma, LCD and projection televisions
personal computers
laptops, notebooks, servers, server cabinets
palmtops and tablets
computer monitors
parts for personal computers, for example internal hard drives, motherboards, cards, internal power supplies, CPUs, DVD and CD drives
computer peripherals, for example mice, keyboards, joysticks, game pads, scanners and web cameras
modems, switches, routers, and hubs
printers and digital printers, for example ink-jet, dot matrix, laser printers, and multi-functional devices, digital copiers.
What is eWaste?
eWaste includes the following:
Large appliances  
Refrigerators 
Washing Machines 
Cookers 
Microwaves 
Electric fans 
Air conditioners 
Small appliances
Irons 
Toasters 
Coffee machines 
Hair dryers 
Watches  
IT and TV equipment  
Computers 
Laptops 
Printers 
Mobile phones 
Televisions 
Remote controls
Lighting equipment  
Fluorescent lamps 
High intensity 
Discharge lamps 
Compact fluorescent lamps 
LEDs
Electrical and electronic tools 
Drills 
Saws 
Sewing machines 
Lawn mowers 
Batteries  
Toys, leisure and sport equipment
Electric trains and racing cars 
Hand-held video games 
Consoles 
Amplifiers 
Musical instruments 
Radios  
Other eWaste  
Medical devices  
Automatic dispensers/thermostats
How can I reduce my eWaste?