Responsible pet ownership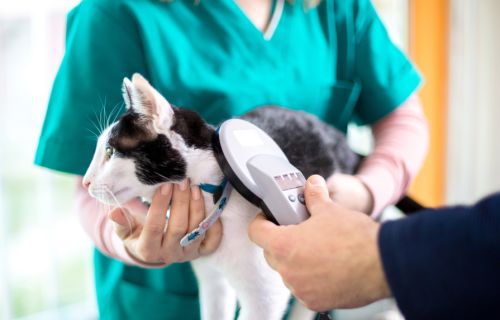 As a pet owner, it is your responsibility to provide proper and sufficient food, drink, and shelter for your pet and ensure you seek veterinary or other appropriate attention or treatment if your pet requires it.  
City of Ballarat Animal Management Officers are authorised under the Prevention of Cruelty to Animals Act 1986 to investigate alleged matters of cruelty within the municipality. Warnings, infringements, and prosecutions can result in cases where cruelty is found, whether intended or not.  
If you witness an act of animal cruelty, please contact the City of Ballarat's Animal Management Officers on 5320 5500. 
How many animals can you keep?
Under the Community Local Laws 2017, you may keep up to two dogs and up to two cats. Animals kept on farm land are exempt.
See pages 27-28 of the Community Local Law 2017 for details. 
To keep more cats and dogs than this on your property, you must acquire an excess animal permit. 
Apply for an excess animal permit (cats & dogs)
This Application needs to be signed by all next-door neighbours before being returned to Customer Service.  
The Animal Management Team will then contact you to conduct an inspection before deciding if a permit will be issued.
Requirement to contain animals with appropriate fencing
Under the Domestic Animals Act 1994, dog owners are required to ensure that their dogs are securely always contained to their property, unless under effective control by way of having the dog attached to an appropriate lead or control apparatus, such as a body and/or head harness. 
Council Animal Management Officers often receive reports relating to unstable or inappropriate fencing between properties where dogs or animals are kept. 
Instances of dogs escaping yards/entering neighbouring properties often results in attacks on neighbouring pets or people. City of Ballarat does not enforce fencing requirements but can issue infringements for dogs at large and for non-serious injuries. 
Council also prosecutes dog attack matters in the Magistrates Court of Victoria. If you own a dog or dogs, it is your responsibility to ensure that your dog is securely contained to your yard and that your neighbours and their pets are safe to enjoy their properties. 
Dog owners should check their fences regularly and repair any small damages before they become an issue or hazard. The onus will fall on you if your dog escapes and is involved in an attack. If you are renting a property and are concerned about the fencing, you should contact your real estate agent or landlord. 
It is an offence under the Local Laws for an owner or the occupier of the land to keep animals that are not secured or fenced in a way that will prevent the animal from escaping from the land. 
Dogs on and off leads
Your dog must be kept on a lead at all times, unless you are in an area clearly signed as an off-lead area "Designated Off Leash Area".  
Dogs can be exercised off a lead in many reserves and parks, but they must remain under control and be continually supervised and under "Effective Control".  
'Effective Control' means that whilst on or off lead, the person in apparent control of a dog does not allow the dog to worry, cause a nuisance or threaten any person or animal. 
'Designated Off Leash Area', means any place or part of an area assigned by Council as an off leash dog park.  
There are a number of dog parks in Ballarat you can take your dog to.
A dog may be exercised off an appropriate leash, chord or control apparatus such as a harness in a Designated Off Leash Area if the person in apparent control of the dog:
carries an appropriate lead or control apparatus such as a head and/or body harness sufficient to bring the dog under Effective Control;
remains in effective voice or hand control of the dog and within constant sight of the dog at all times; and
does not allow the dog to worry, cause a nuisance or threaten any person or animal.
If a dog is off lead in a Designated Off-Leash Area, it must be brought under Effective Control by means of a an appropriate lead or control apparatus such as a head and/or body harness, if the dog is within 50 metres of:
the arena or ground of an organised sporting or practice event;
a children's play equipment area;
the principal location of an organised public meeting or event; and
a permanent barbecue or picnic area.
If a dog is off lead in a Designated Off Leash Area it must be brought under Effective Control by an appropriate lead or control apparatus such as a head and/or body harness if the dog is within 10 metres of any shared path, walking track or waterway.
Council's Animal Management Officer conduct twice daily patrols of Designated Off Leash Areas and areas not designated under this order. Officers are authorised under the Domestic Animals Act to issue infringements for breaches of the order.
Dog attacks
Dogs are an important part of many City of Ballarat resident's lives - they can enrich our lives and bring us much joy.
Residents in the municipality are fortunate to have access to many off lead dog parks and on lead areas where they can enjoy their fur friend's company (see above).
Unfortunately, sometimes owners misunderstand or misread dog behaviour or dogs have not been adequately socialised, and attacks on other dogs or people can occur.
Dog attacks can have a serious impact on victims, their dogs and witnesses. These are investigated by our animal management officers. Our animal management officers also investigate dog attacks where the dog is not securely confined to its property - and is able to get out and rush up to people, barking and growling – or in more serious cases- attack and bite.
Animal Management Officers can conduct investigations when dog attacks are reported to Council. Investigations involve interviewing the attacking dog owner or person in care and control at the time of the attack, taking victim and witness statements and collating evidence regarding the incident. Attacking dog owners may be issued infringements or charged under the Domestic Animals Act 1994.
City of Ballarat prosecutes dog attack matters in the Magistrates Court of Victoria. Fines, convictions and orders to pay compensation can be ordered by a Magistrate. In very serious cases- you may receive a banning order from a court order- which means that you will be unable to be in care and control of a dog for a period of time.
It is very important to know your dog and check your fencing and watch them at all times when out in public so you can monitor if/when their behaviour changes.
 Please report all dog attacks to the City of Ballarat's Animal Management Officers on 5320 5500.
Download the Dog Attack Information Sheet
Cats
Cats fit into domestic life and routines easily and comfortably. They are however, predators by nature and will go looking for mates, defend territory and hunt wildlife, particularly during the dusk-to-dawn period.
What are the dangers of allowing your cat to roam at night?
At night your cat is most likely to:
attack wildlife
get hit by passing traffic
be injured or injure another cat in a fight
howl and annoy neighbours (especially during mating season)
How do I build cat proof fencing and cat enclosures?
A number of excellent cat enclosure products are available commercially. For cost effective DIY tips visit Agriculture Victoria's cat confinement enclosures and fencing.
Low-cost cat desexing program
The National Desexing Network and the City of Ballarat, in conjunction with participating vet clinics, are partnering to provide low-cost desexing for household cats as part of the City of Ballarat desexing assistance program. The program is available only for City of Ballarat residents who meet prescribed criteria. 
The criteria includes:
Residents who hold pension, concession or health care cards
Residents on low incomes
Residents with large numbers of cats; and
Semi-owners who are willing to take responsibility for (microchip, desex and register) stray unowned cats 
Call 1300 368 992 for more information or visit the National Desexing Network website. 
Is there a cat curfew in Ballarat?
Yes, cat owners are required to keep their cats confined to their premises at night between sunset and sunrise. The curfew assists in minimising harm to the environment and wildlife, and reduces annoyance to neighbours. 
Further, if a cat has been present on private property on more than one occasion without the permission of the owner or occupier of the property, the owner or occupier of private property or an authorised officer may seize the cat while it is present on the property. 
As of 1 March 2023, the Animal Management Team are conducting an extensive cat trapping program. If your cat or cats are not confined, they are at risk of being trapped and impounded at the Ballarat Animal Shelter.  
Owners will be asked to pay costs associated in reclaiming their cat and infringements may be issued for not complying with the curfew or being found on private property.
Keeping Chickens
Keeping chickens can be an enjoyable experience and is an easy way to engage in sustainable living. 
Chickens can make wonderful family pets, but like any pet, it is essential that you do your research to ensure you are prepared to care for them appropriately. Chickens can be a long-term commitment as they can live for four to seven years, and sometimes up to ten years. 
Keeping backyard chickens – what you should know
Under the current Community Local Laws, residents of urban residential properties are permitted to keep up to five chickens/fowls (excluding roosters). 
Residents of urban residential properties must not keep any other poultry, including ducks, geese, turkey, and guinea fowl. 
If residents wish to keep any other poultry more than five chickens/fowls, an Excess Animal Permit needs to be applied for. 
For more information about the types and amounts of animals permitted, see pages 27-28 of the Community Local Law 2017
Animal infringements
If you have receive an animal infringement and believe you have a good reason for not paying the fine you may apply to appeal the infringement: