LGBTIQA+ Ballarat
Local governments have an important role to play in fostering inclusion and accessibility, including eliminating discrimination on the basis of sexual orientation and gender identity.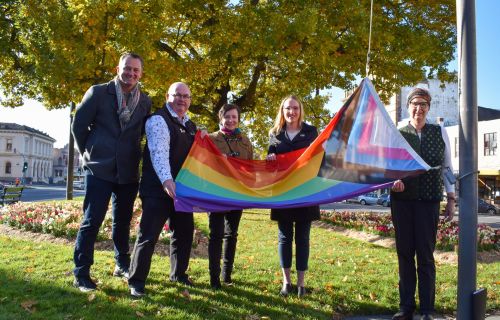 LGBTIQA+ Advisory Committee
The City of Ballarat's Lesbian, Gay, Bisexual, Transgender, Intersex, Queer/ Questioning, Asexual (LGBTIQA+) Advisory Committee provides feedback and advice to the City of Ballarat on items that impact LGBTIQA+ communities.
This includes advising on communication, engagement and consultation with LGBTIQA+ communities, and identifying ways to continue to build community cohesiveness, inclusivity and pride in Ballarat's diversity.
The committee consists of people with lived experience, those who work or volunteer with LGBTIQA+ people and those who have expertise in this area.
LGBTIQA+ Inclusion Plan 2022-2026
Almost 10 per cent of City of Ballarat residents identify as LGBTIQA+ compared to about 5.7 per cent of Victorians. This equates to over 10,000 residents.  Ballarat is an inclusive city where diversity is not only accepted but welcomed and celebrated.
For our city to flourish, we must truly embrace and harness diversity and ensure that our LGBTIQA+ communities feel supported, connected, visible and, above all, foster a strong sense of belonging. 
Our city values the contribution of all people and our spaces, places, programs, events and services are designed to be welcoming and accessible to all.  
We recognise that not everyone has the same experience and we work to make sure that people receive the support they need to ensure that no one is left behind.
The LGBTIQA+ Inclusion Plan 2022–2026 outlines the practical actions we can take to support everyone who lives in the municipality to be able to participate fully in life and to feel safe, welcome, visible and included.