Sorting our waste
Waste collection in Victoria is changing.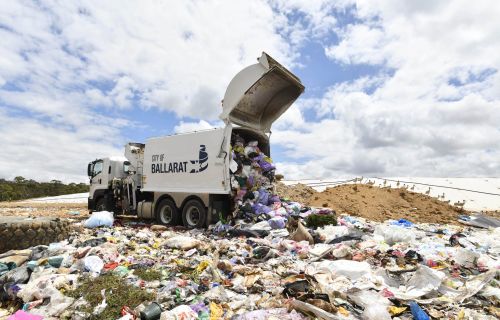 Sorting our waste
It's time we think differently about waste
The State Government is introducing a standardised waste collection system across Victoria.  
Learn more about the changes from the State Government.  
All local government areas, including the City of Ballarat, will move to a new glass service and a new food and garden organics (FOGO) service soon.  
Recently we asked our community to have their say on a number of waste service options being considered by council that meet the needs of the community while balancing the costs and benefits.  
Based on community feedback received in the first round of consultation in late 2022, we released a range of service options for the future of our municipality's waste and glass collections through the Kerbside Transition Options Paper.
View the Kerbside Transition Options Paper
The options for FOGO, household waste, and glass collection services were outlined based on their environmental benefits, cost effectiveness and convenience for households. 
Once we've taken your feedback on the options into consideration, the Kerbside Transition Plan will be presented to Council for consideration later this year.  
Once adopted, the City of Ballarat will prepare a timeline for the introduction of the four waste and recycling stream collection service. 
For more information, contact Michelle Huie, Circular Economy Project Officer at circulareconomy@ballarat.vic.gov.au
Why is the State Government introducing changes? 
By 2030, all households in Victoria will use the same waste and recycling system, separating their waste and recycling into four streams – food organics and garden organics (FOGO), glass, mixed recycling, and household waste. 
Under the Circular Economy (Waste Reduction and Recycling) Act 2021, all Victorian councils must introduce a separate glass recycling service by 2027, and a FOGO service by 2030, with some councils already making the change. 
This change is designed to improve our recycling and reduce waste going to landfill. 
A standard state-wide approach will ensure a simpler and consistent way to separate household waste and recycling and will also improve the quality of our recyclables, leading to more of our recyclables being recovered and transformed into something new.
How much does waste and recycling cost the City of Ballarat?
Waste disposal is expensive. Each day, the City of Ballarat spends $28,000 to dispose of waste.  
More than 24,000 tonnes of waste were sent to landfill in the 2021-2022 financial year from 49,103 homes. 
The City of Ballarat's annual waste budget is around $25 million to cover the cost of rubbish, recyclables and green waste bin collection as well as managing the Transfer Station, Ballarat Regional Landfill, and Pass on Glass. 
Construction of the new cell (where we dispose of waste) at the Ballarat Regional Landfill will cost $4 million and, based on current rates, is expected to be full by the end of 2025. This landfill is expected to reach capacity by 2040. We will then need to consider other options, which could include trucking waste to other landfills or source alternative options.
Why is Food Organics and Garden Organics (FOGO) collection important? 
Food waste makes up 42 per cent of our household waste, which adds up to an estimated 10,000 tonnes of food that is thrown out by City of Ballarat residents every year. 
It is expensive to send this large volume of food waste to landfill. Landfill charges, set by the State Government, have increased substantially in recent years and are expected to continue to increase in the future. Diverting food waste from landfill will reduce landfill costs for City of Ballarat residents.  
Burying food waste in landfill is not good for the environment. Diverting food waste from the household waste bin will reduce the volume of methane, a powerful gas that contributes to climate change, that is generated when organic waste breaks down in landfill.  
The State Government has prioritised tackling food waste with a policy requiring councils across Victoria to provide a FOGO service to all households.  
Collecting FOGO, including fruit and vegetable scraps, meat, bones, seafood and eggshells, through our kerbside collections and keeping it out of landfill is one of the most simple and effective things we can do for the environment.  
Food and green waste can be transformed into compost – which means it is being recycled into something new that can be used. 
Why is glass recycling important?
The City of Ballarat moved to separate glass from mixed recycling in 2019, introducing a Pass on Glass system.  
Due to the collapse of SKM Recycling, the City of Ballarat had to find an alternative option to ensure our recycling wouldn't end up in landfill.   
Under this system, residents stopped adding glass to their yellow-lid recycling bins, instead taking their glass to drop-off sites. Separating glass from other recycling improves the quality of these materials because broken glass becomes stuck in these items, reducing their ability to be recycled.    
The system to separate glass has received a high up-take from our community – with 3,860 tonnes of glass jars and bottles recycled by local companies since its inception.   
On average, glass now makes up just three per cent of household waste going to landfill.  
Glass collected from the Pass on Glass sites is sent to Visy in Melbourne where it is recycled into new glass bottles. 
In 2020, the State Government announced a policy to introduce a new glass service for all Victorian households. 
The State Government will introduce a Container Deposit Scheme across Victoria in 2023. The scheme will provide a 10c return on eligible drink containers - cans, cartons and bottles - at collection points. It aims to reduce litter and increase recycling. It is expected that the scheme will receive at least 20 per cent of household glass volumes.   
The City of Ballarat is looking to hear residents' preferences for retaining the existing Pass on Glass model or moving to the introduction of a purple-lid bin for glass kerbside collection.