Green waste
Our green waste collection service is compulsory for residential properties between 250m2 and 4000m2 with a detached house in Ballarat and is currently on a green waste route. All other residential properties can opt into the service if they would like by calling Customer Service. Green waste can also be taken to the Transfer Station.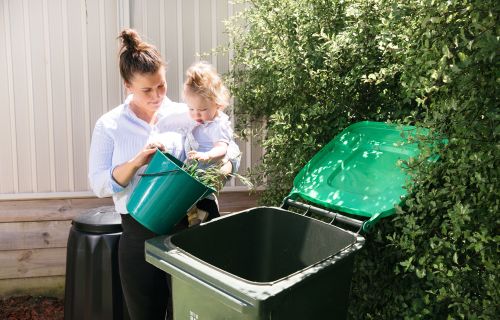 Free Green Waste Week
Between Saturday 11 November and Sunday 19 November 2023, residents can drop off their domestic green waste free of charge at City of Ballarat Transfer Station.
Green waste must be: 
separated from other waste and loads must 
No more then three cubic metres. 
Green waste may include prunings, small branches, grass, leaves and flowers. 
Fruit and vegetable scraps, food waste, plastic pots and bags, glass, metal or tin, and building rubble cannot be disposed in green waste.
Changes to Kerbside Bin Collections are coming
Ballarat is getting a new system for kerbside bin collection.
When are green waste bins collected?
Green bins are collected fortnightly on the opposite week to recycling.
The maximum weight for collection is 70kg. If the bins are heavier, they cannot be collected. If you really struggle to wheel it to your kerbside, then it is too heavy for the arm of our truck. Green waste can also be taken to the Transfer Station.
What can go in my green waste bin?
Anything you cut from your garden can go in:
Prunings
Small branches – maximum size: 10cm in diameter and 55cm long
Flowers
Leaves
Grass
What cannot go in my green waste bin
The following items can't go in your green waste bin, they could cause contamination or damage to processing machinery:
Fruit or Vegetable scraps 
Plastic pots
Plastic bags
Food waste
Glass
Metal or tin
Building rubble
Frequently asked questions
How often will my bin be collected?
Your green waste bin will be collected fortnightly on alternate weeks to your recycling bin.
Where will the green waste be taken to?
Your green waste is taken to a processing centre at Mt Wallace, where it is turned into a high grade compost.
Won't it all just go to landfill?
No, your green waste will be turned into high grade compost which will is sold to the agricultural industry.
How does keeping green waste out of landfill help?
By separating the green waste from regular waste, landfill space requirements are reduced. This helps reduce the production of methane gas and other greenhouse gases. This will help reduce the long-term cost of waste disposal for our community.'
Can I put weeds in the bin? Won't that just spread the weeds?
Weeds can go into your green waste bin. Weeds do not survive processing at the Mt Wallace facility.
Can I put in food scraps? 
No, food scraps cannot go in your green waste bin. Processing food scraps is different to green waste, so any food scraps need to be removed before processing. 
Food scraps will need to go in your rubbish bin. If you want to reduce how much food waste is going in your rubbish, you can start a compost bin at home or find a shared compost bin near you.
Can I put in dog waste or kitty litter?
No, dog waste and kitty litter can't go in your green waste bin. Processing animal waste and kitty litter is different to processing green waste, so you will need to place animal waste and kitty litter in your rubbish bin. 
Can I buy back bags of the compost?
The compost made at the Mt Wallace centre is sold to a private contractor in the agricultural industry and can't be purchased commercially.
Can I put logs or large branches in my green waste bin? Where do I take logs/large branches?
You can take logs and large branches to the green waste area at the Transfer Station in Gillies Street South.
If the compost is sold, why do I have to pay for the service?
There are still costs associated with the collection and transportation of our green waste to Mt Wallace. Compost sales don't cover these costs and the full costs of processing. These costs are cheaper than taking green waste to landfill, which reduces the overall cost of waste removal for the community.