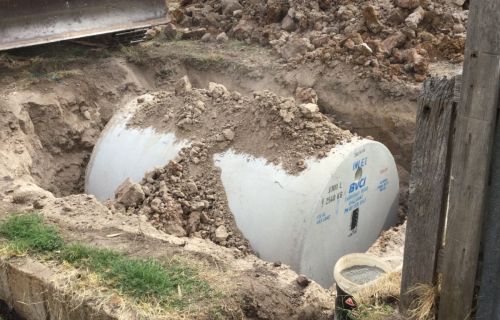 Applying for a Septic Tank Permit
Step 1
Call our Statutory Planning team on 5320 5500 to determine if you need a planning permit for your development.
If required, a planning permit must be obtained before a septic tank permit can be issued.
Step 2
Contact Central Highlands Water to determine if your property is situated within the designated sewerage district. Central Highlands Water is a referral agency for all properties located within their sewerage district. They will determine if you should consult with council regarding a septic tank system for your property.
Step 3
Collect the following information to be submitted with your application:
Land Capability Assessment (LCA):
An LCA will need to be submitted as part of the application. Without an LCA it is impossible to determine the capability of the land to sustain a septic tank system. However, an LCA for your property may have already been undertaken when the property was sub-divided so you may be able to access this report.
 
Locality Plan:
Your plan needs to include
i. Clearly identify the location of the property including the street or lot number
ii. The location and names of other streets and laneways in the immediate area.
 
Site Plan:
i. Identifying the proposed location of the dwelling including shed, driveways, stock areas, tennis courts, swimming pools or any other structure intended to be constructed on the lot
ii. Identify the area you intend to install the septic tank system.
 
A house/building floor plan:
i. Your plan needs to clearly identify all bedrooms and study
ii. Be on a scale of no less than 1:100.
 
Title:
i. A copy of the land title is required to determine if there are any encumbrances on the land.
Step 4
Complete the Application for a Permit to Install or Alter a Septic Tank System.
Step 5
Submit the application (including documentation) and make payment. The correct fee can be obtained by contacting the Environmental Health Unit.
Want more details?
Visit EPA Septic Tank.