Double the celebrations for Ballarat Botanical Gardens | ourballarat autumn 2022
This March, the Ballarat Botanical Gardens will host its 70th Begonia Festival. At the same time, Friends of the Ballarat Botanical Gardens will celebrate 40 years of outstanding support and care for the gardens.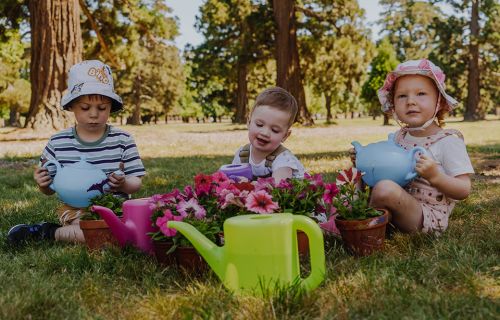 Friends for life
Formed in 1982 the group has been instrumental in assisting the work of the City of Ballarat Parks and Gardens and Events teams with the Begonia Festival.
This representative community group also manages a part-time retail nursery, education programs, guided tours and fundraising events all in the name of promoting and caring for Ballarat's Botanical Gardens.
Ballarat Botanical Gardens Parks and Nursery Curator Peter Marquand says the gardens are lucky to have the support of such a dedicated and enthusiastic community group.
"The City of Ballarat has a marvellous team at the gardens that provides expertise and labour but the Friends play a critical role as a link to the community, project fundraiser and increasingly influential lobby group," Peter says.
"With 10 months of growing and nurturing more than 1500 Begonias, the Begonia Festival is our chance to shine a spotlight on the gardens."
Friends of Ballarat Botanical Gardens President Terry O'Brien says the Friends are very proud of their achievements with more than $1 million raised and a history of successful projects and programs, like BotaniKids, ensuring the interest of future generations.
"With its proximity to the beautiful Lake Wendouree, there is tremendous scope to develop the gardens' footprint further in a sustainable and enriching manner.
"With the City of Ballarat, we have the professional expertise. As a community group, we have the enthusiasm, and with the continued marketing of our beautiful city, we have the visitors.
"It's like a good potting mix, with the right ingredients, the Ballarat Botanical Gardens will continue to thrive."
Ballarat Begonia Festival in full bloom for its 70th year
Celebrate Ballarat's globally-recognised Begonia collection — one of the rarest in the world.
This 10-day Festival will be held from 11-20 March with a program taking place across the CBD and garden precincts, including a long weekend Gardeners' Market in the Ballarat Botanical Gardens and the PowerFM Begonia Parade returning on the Monday of the long-weekend.
Discover more at ballaratbegoniafestival.com.au
City of Ballarat Council Plan Alignment
The projects, initiatives, and ideas in this article align with the following goals of the City of Ballarat Council Plan 2021-2025:
Goal 2
A healthy, connected and inclusive community
Goal 4
A city that conserves and enhances our natural and built assets
Goal 5
A strong and innovative economy and city