Skywhales soar this Ballarat Winter Festival | ourballarat winter 2022
Two monumental skywhale sculptures in the form of hot air balloons will rise into the sky above Ballarat as part of Ballarat Winter Festival on Saturday 9 July.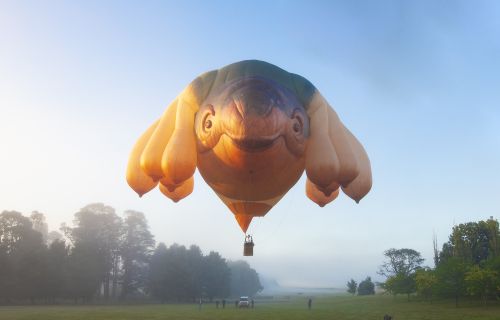 The two hot air balloon sculptures are the work of Australian artist Patricia Piccinini.
Skywhales: Every Heart Sings, has been brought to Ballarat by the Art Gallery of Ballarat.
They debuted together in Canberra last year and have been floating across the skies of eastern Australia as a touring event from the National Gallery of Australia.
Skywhale and Skywhalepapa, who holds their nine babies under his fins, are each more than 20 metres tall and nearly 40 metres long.
Skywhalepapa alone is made up of 3.6kms of fabric requiring 3.6 million stitches. Art Gallery of Ballarat Director Louise Tegart is thrilled to bring the work of one of the nation's most highly regarded contemporary artists to Ballarat.
"Piccinini's messages of the Skywhales sculptures – compassion, kindness, love, care and responsibility — are particularly pertinent at this time," Louise says.
"I hope the people of Ballarat come out to experience them and celebrate this incredible artist's imagination."
Come along to this once-in-a-lifetime launch to watch these mammoth sculptures inflate and soar into the sky accompanied by a local children's choir.
As part of this year's Ballarat Winter Festival, you can get your skates on with the return of the much-loved ice-skating rink and also meet the new tiger, Kai, at the Ballarat Wildlife Park.
Warm up with Knights of Fire and Snow Queen Neva at Kryal Castle while taking in performances including fire twirling and the new axe throwing range.
Check out the curated collection of some of our best makers, bakers and designs at the Design Exchange Market at the Mining Exchange on Saturday 9 and Sunday 10 July, and enjoy the fire pits, mulled wines and wintery tunes of The Design Exchange: Beyond Dark on 9 July.
Winter Wonderlights also returns to Sovereign Hill with all the magic of Christmas carols, theatre shows, visits from St Nicholas, light installations and children's craft activities from 25 June–17 July.
Discover Ballarat this winter at ballaratwinterfestival.com.au.
City of Ballarat Council Plan Alignment
The projects, initiatives, and ideas in this article align with the following goals of the City of Ballarat Council Plan 2021-2025:
Goal 2
A healthy, connected and inclusive community
Goal 5
A strong and innovative economy and city