Connecting through culture | ourballarat winter 2022
Meet the City of Ballarat's new Intercultural Ambassadors. Over the past 12 years, the Intercultural Ambassador Program has supported 50 ambassadors from a wide range of culturally, linguistically and religiously diverse communities. Ballarat's newest ambassadors are working together to strengthen our intercultural community.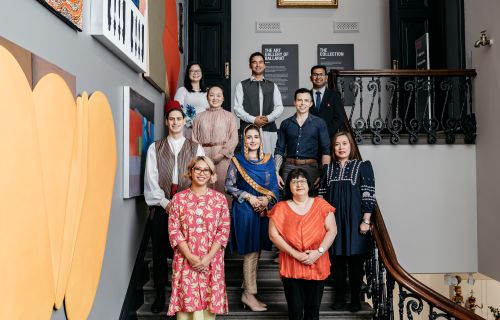 In March 2021, Yaqoob Kazan arrived in Ballarat from Istanbul with his Australian-born wife, Hannah.
Yaqoob, who is originally from Kunduz, a city in northern Afghanistan, left his country of birth in 2015 to study and volunteer abroad.
Despite moving to Ballarat during the pandemic, Yaqoob says his experience has been positive.
Within months of relocating, he found employment as an instrument technician at St John of God Hospital.
"People in Ballarat have been so nice and generous," says Yaqoob.
"Everyone has been so welcoming and loving and we feel very much part of the city."
Motivated by his migration experience, Yaqoob, who speaks seven languages, felt a strong desire to give back to his community.
Through social media, he learnt about the City of Ballarat's Intercultural Ambassador Program.
"One of the reasons why I wanted to become an ambassador is because the Afghan community are not well connected or represented in Ballarat," he says.
"Last year was difficult for Afghanistan and many people migrated to Australia … I want to help new migrants settle here and establish a stronger connection between the Afghan community."
Over the past decade, Ballarat's cultural diversity has grown. Today, the city is a melting pot of different cultures, nationalities and languages.
The City of Ballarat works to welcome and engage people from all walks of life. Launched in 2009, the Intercultural Ambassador Program aims to promote cultural diversity and understanding through learning, exchange and celebration.
A key highlight of the three-year program is its leadership opportunities. After an intensive training program, ambassadors are encouraged to establish networks and deliver programs or projects for their communities with City of Ballarat support.
In March, the program inducted 10 new ambassadors from nationalities including Vietnam, Lebanon, India, China, Pakistan, Italy – to name just a few.
Victor Barrantes, who is from Bogotá in Colombia, moved to Ballarat with his Colombian-born wife Stefi Tello four years ago.
Last year Victor and Stefi launched weekly salsa dance classes at the Eastwood Leisure Complex.
"The salsa classes are lots of fun. We play music and there is a really great vibe," he says.
Victor, who also works as a personal trainer, was inspired to join the program because he wanted to share his Latin American heritage, culture and food.
Malaysian-born Lilly Wright migrated to Melbourne in 2013. She started her baking business in 2018, relocating to Ballarat not long after with her husband.
Her passion for cooking soon turned into a career when she started working as the kitchen coordinator for A Pot of Courage, a social enterprise café in Barkly Square.
"When I started working at A Pot of Courage, I was able to connect with all different people especially migrant women in Ballarat. Through cooking food and sharing recipes and stories, we really empower each other."
Lilly says she is proud to be an ambassador and wants to continue to connect, share and create an environment of cultural experience with other communities.
She says one of the highlights has been the PowerFM Begonia Festival Parade. "The parade was so beautiful, and I thought how lucky we are to have this festival in Ballarat, seeing people proudly wearing their cultural fashion showing the power of unity." Maridel
Martinez-Andanar has worked as a producer and journalist at SBS for over two decades.
Born in the Philippines, Maridel migrated to Australia with her husband in 1999. After spending close to 20 years in Melbourne, Maridel moved to Ballarat with her family in 2018.
Through her work at SBS, Maridel has reported on many successful community-based programs. She would like to introduce some of these programs to Ballarat.
"Australia is very multicultural, but there are few opportunities for people or groups from different cultures to work together," she says.
"The Ambassador Program is a good space for this. You get to learn from each other and share your experiences.
"By working harmoniously together, we can accept each other's differences and learn from them."
City of Ballarat Council Plan Alignment
Page topics