Ballarat changemakers
A dedicated group of volunteers is recycling bikes and donating them back to the community. The City of Ballarat is partnering with this Y Ballarat initiative to encourage more primary school students to walk, ride or scoot to school when restrictions ease.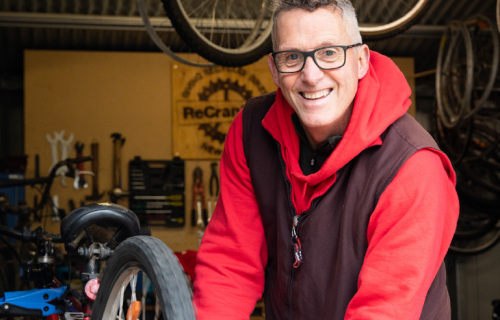 ReCranked has recycled more than 2,000 bikes since it first began seven years ago.
Each week, a small group of volunteers meets at a Wendouree workshop to transform unwanted or broken bikes into safe and effective modes of transport for those without wheels.
ReCranked donates the bikes to schools, the unemployed, newly arrived immigrants, asylum seekers and anyone in the community who needs a bike for transport or fitness.
ReCranked has given Kasi Reddy Bekkam the leg up he needs to commute, exercise and explore Ballarat during the pandemic.
Kasi and his wife, Harika Medam, moved from India to Ballarat in late 2019. The pandemic left Kasi, a part-time employee, and Harika, who is completing her Masters in IT at Federation University, experiencing financial hardship.
Now, thanks to the ReCranked program, Kasi and Harika use pedal power to commute short distances around Ballarat.
Kasi says ReCranked encourages people to embrace cycling, leading to improved physical and mental health, while a reduced reliance on vehicles also contributes to less pollution and better air quality.
"I feel this is one of the great initiatives for the people of Ballarat…to repair, reuse the bicycles and give back to the community," Kasi says.
Walking and riding to school
This year, ReCranked will teach students how to repair bikes and embrace active travel to school, by donating bikes to students eager to ride to school.
ReCranked Coordinator Wallace Martin says the program teaches students a range of skills.
"One of my real passions is getting more kids walking and riding to school," he says.
"We show the kids how to set up their bike properly to ensure the seat is at the right height, the brakes work safely and how to ensure that their bike is roadworthy.
"It gives young people the power to check over their bike and take responsibility for making sure their bike is ready to go."
Building on the work of Walk to School 2019, the City of Ballarat showcases the benefits of active travel to schools and holds active travel workshops with The Bicycle Network.
City of Ballarat Recreation Services Participation Project Officer Teagan Kenny says ReCranked goes to the core of the Ballarat is Active action plan, the Active Women and Girls' Strategy and the Ballarat Cycling Action Plan.
"Walking or riding to school helps students achieve the recommended 60 minutes of physical activity every day, reduces traffic congestion and helps the environment."
Recycling and reusing bikes
The ReCranked program also focuses on recycling and keeping bikes out of landfill.
"If you bring in a bike that's unusable, we remove everything off it we can to use on other bikes down the track," Wallace says.
"Anything that can't be used is also recycled. All of our rubber is shredded and recycled for use in road base and bike tracks and all of our metal becomes recycled scrap metal."
Want to know more?
ReCranked receives donations of unwanted bikes. Volunteers wanting to donate their skills are also welcome. To find out more, call 4311 1500 or email
ballarat.recranked@ymca.org.au.
Want to know how your school can be supported in walking, cycling or scooting to school? Contact City of Ballarat Recreation Services Participation Project Officer Teagan Kenny on 5320 5500.
On your bike
Do you have a sense of adventure and a love of two wheels?
The City of Ballarat is a member of Cycle West, a local government marketing initiative, working to position Western Victoria as a destination for a broad range of cycling experiences.
To explore more of the west follow Cycle West Vic.