Sebastopol Streetscape Improvements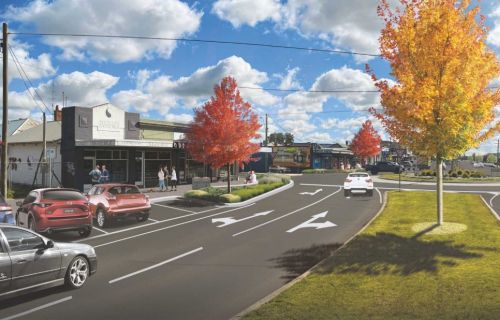 Project Overview
The City of Ballarat, in partnership with the State Government, is delivering the Victoria and Albert Streets Precinct Streetscape project. The project aims to deliver a greener, safer and more accessible precinct for Sebastopol residents and visitors.  
The proposed works, subject to final design and cost management, will take place from just north of Birdwood Avenue to Ophir Street and include:
Approximately eighty new trees along Albert, Victoria and Bridge Streets plus garden beds and landscaping  
Improved streetscape amenity and beautification  
Improved accessibility and pedestrian safety at the Albert Street and Victoria Street roundabout
More parking, including accessible car parking
New paving and seated areas for pedestrians and community members using local businesses
New precinct signs
The Victoria-Albert Streets Precinct Streetscape Improvements is a $974,000 project which is being funded through Spotlight on Sebastopol - a $5 million State Government funding commitment. 
Come see the latest designs
Consultation on the draft plan was conducted in September 2022 via our online MySay platform and a drop in session at the Sebastopol Library to get feedback from residents and visitors to the area.  
The feedback was reviewed with suggestions and comments considered. From this feedback the Concept Plans were updated and can be viewed here.
Information session
Thursday 13 July, 5 – 6pm
Sebastopol Library – 181 Albert Street, Sebastopol
If you are unable to attend the information session you can email citydesign@ballarat.vic.gov.au or call customer service on 5320 5500 and ask to speak to a City Design Officer. All comments and feedback need to be received by 13 July. 
Project Timeline
 

 

 

 

 

 

 

 

 

 

 

 

 

 

 

 

Information session and feedback on updated concept designs 

 

 

 

 

 

 

 

 

 

 

 

 

Required approvals from authorities 

 

 

 

 

 

 

Construction documentation developed 

 

 

 

 

 

 

 

 

 

 

 

 

 

 

 

 

 

 

Undertake streetscape works 

 

 

 

 

 

 
FAQ (Frequently Asked Questions)
What is not included in the project?
The streetscape improvements do not propose changing the location of the existing pedestrian crossing signals to the south of the Albert-Victoria Streets roundabout. Also, the project does not propose to introduce traffic lights at the intersection. What can be delivered will be determined through cost planning during the detailed design to maximise the available budget for the project.
When will the works begin and end?
The project's engagement and design is expected to take place throughout 2023 with the project anticipated to go out to tender before the end of 2023. The streetscape upgrade is expected to occur after the important Christmas retail trading time. The streetscape works are expected to take eight to 12 weeks, with the timing dependent on weather conditions during construction.  
Will shops and businesses be accessible during the works?
Works are not expected to impede businesses in the precinct. However, some minor disruptions for pedestrian access are expected.
Will the works disrupt traffic in the precinct?
Most of the works will take place along the road shoulders and footpaths. The works are not expected to cause significant traffic disruptions.