Supporting our tourism sector
Never before will Ballarat's 'visiting friends and relatives travel market' be more relevant than when Victoria comes out of restrictions. That's when our local residents will be encouraged to extend a lifeline to our tourism attractions in a show of solidarity and support.
There's a touch of irony that modern-day Ballarat was built on a level of hardship, conflict and tension on the diggings, when people made do with what they had, battled disease, built resilience and faced difficulty together.
Despite a year of unprecedented interruption to their business models that has shut down domestic visitation and eliminated lucrative international markets, two of Ballarat's largest tourism attractions are demonstrating that same level of tenacity and fight against a global pandemic.
To put into perspective what is at stake, Ballarat's tourism sector injected $553 million into the Ballarat economy and provided 3,010 jobs in pre-pandemic times.
Ballarat's authentic and enriching experiences are known drivers of people travelling into regional Victoria for weekends away and short stays.
Through the Ballarat Events Strategy, the City of Ballarat's marketing campaigns and the Traveller Experience Plan, the City of Ballarat will continue to work with the tourism industry to encourage visitors back to Ballarat as restrictions ease.
A walk on the wild side
The Ballarat Wildlife Park is a family-owned business, accredited by the Zoo and Aquarium Association. The park does not receive ongoing funding from government and is reliant on entry fees to fund its operations.
Owner Greg Parker made immediate changes to his operation when COVID-19 first hit but took the heartbreaking decision to close temporarily to prevent any possible infections – to humans and animals.
"Fortunately, we have a very strong base of local residents and membership holders who love the wildlife park."
– Greg Parker
"We have received the most fantastic support and we are very grateful for how kind people have been to the animals," he adds, referring to animal sponsorships and food donations.
Greg hopes residents unable to take their yearly domestic or overseas trips will invest in and support their local tourism industry as restrictions ease by becoming repeat visitors, bringing friends and families, known in the tourism industry as visiting friends and relatives travel.
Greg has learnt through these tough times to value the many tourism industry bodies who are working around the clock to bring the tourism sector out of the pandemic.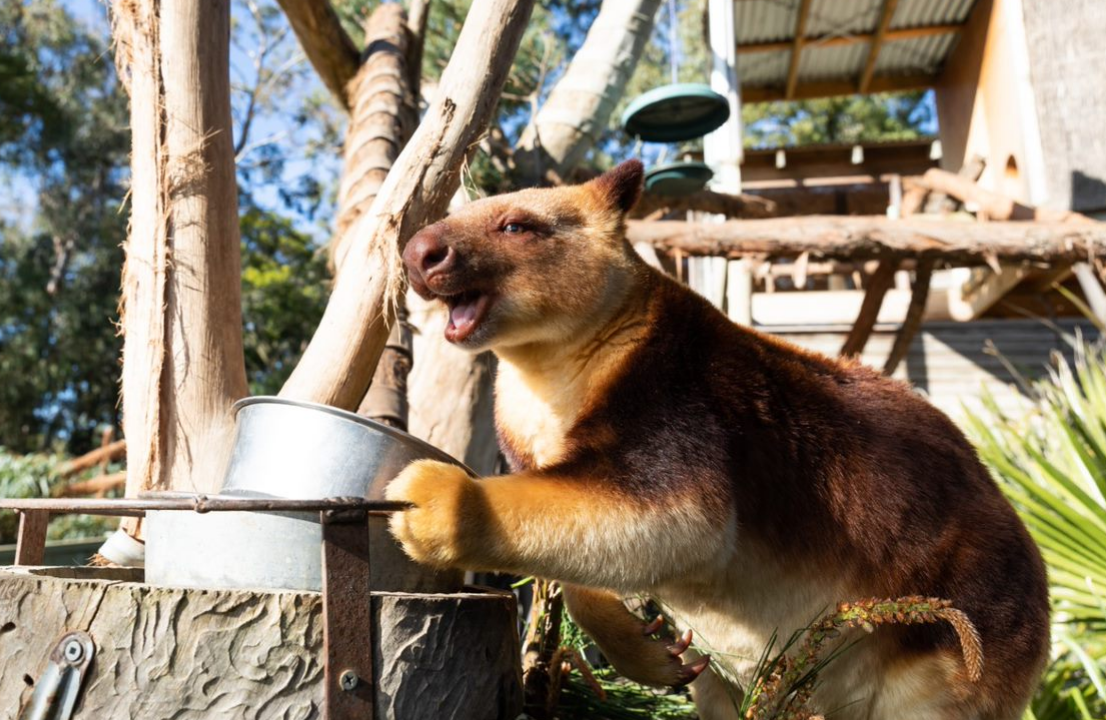 A $94 million Federal Government support package has been established to assist zoos, wildlife parks, sanctuaries and aquariums during restrictions. Ballarat Wildlife Park received a small grant from the package to off-set the costs of bedding, food and overheads, as well as repairs and maintenance to the animal enclosures.
Maintaining animal welfare during the COVID crisis is a nonnegotiable but Greg admits they underestimated the effects of lockdown on some animals.
"Interacting with people and having a bit of fun climbing over their keepers – it's an exciting part of their day, and animals miss that routine." Greg says.
The park instigates an enrichment program, creating activities in the enclosures to keep their animal family motivated while they are out of the public's reach.
Greg believes region to region marketing partnerships with Sovereign Hill and Kryal Castle will continue to be critical.
"We want people to visit this region, but we are in competition with many others, which is why it is important to have those tourism bodies in our corner."
Re-imagining their story
Sovereign Hill, a not-for-profit organisation that celebrates its 50th anniversary in November, takes great pride in its award-winning visitor experiences and
product offerings.
"It has been challenging and painful to close our doors and be in a position where we couldn't welcome visitors and provide an excellent visitor experience," Katrina Nitschke, Head of Content and Engagement, says.
Katrina has been overwhelmed by the support of staff and the community's strong emotional reaction during these tough times.
"This is an attraction that exists because of a community's passion and determination to recognise the value and significance of Ballarat's gold rush story. That community support is vital for us to survive."
– Katrina Nitschke
Katrina acknowledges the pressure that COVID restrictions have placed on Sovereign Hill to maintain that compelling, interactive visitor experience with staff and volunteers.
"Our COVID safety plan assesses every element of the visitor experience and how it can be changed in a responsible and meaningful way that allows us to
hang on to the heart of who we are," Katrina says.
"We expect to emerge from this crisis stronger, more committed to our visitor experience and more strongly connected to Ballarat."
How Ballarat residents can help our tourist attractions:
(subject to restrictions)
• Pre-purchase entry tickets online
• Visit with family and friends when safe to do so
• Purchase yearly passes or memberships where possible
• Sponsor an animal at the Ballarat Wildlife Park
• Donate any fallen or cut gum trees – the koalas will be grateful!
• Stock up on Sovereign Hill produce – order online
• Follow and Like Sovereign Hill, the Ballarat Wildlife Park, Kryal Castle and Visit Ballarat on social media
*Editor's note: Ballarat Wildlife Park and Sovereign Hill were operating under restrictions at the time of writing.