Repurposing our green waste | ourballarat autumn 2022
If you have a green waste bin you can dispose of prunings, small branches, flowers, grass, weeds and your autumn leaves. Our green waste is given a second life at a local processing centre, where it is converted into high grade compost for the agricultural sector. The City of Ballarat will soon also consult with residents about adding food waste to our green waste collection.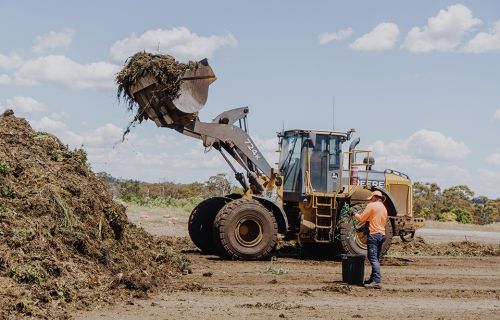 Green waste to garden gold
In 2016, the City of Ballarat introduced a fortnightly green waste kerbside collection.
Each year, around 10,000 tonnes of green waste from Ballarat households is transported to a regional location near Ballarat, where it begins a major transformation process.
At composting company Pinegro's Mount Wallace facility, any contaminants, such as plastic bags, nappies, bricks and other household rubbish, are manually removed from the green waste pile to be disposed of at landfill.
A large industrial shredder then reduces and crushes the material before it's processed through an aerated composting system.
The green waste is then placed onto a series of aerated pipes, which sends air through the raw material, turning it into compost. This composting process pasteurises the material and kills any weeds, seeds, harmful bacteria and other pathogens.
The finished compost is then screened to customer requirements to produce a high quality compost and mulch product that meets Australian standards and is sold to agricultural and residential markets.
Diverting waste from landfill
The compost process diverts green waste from going to landfill, which reduces our landfill costs, and recovers valuable organic resources for the environment.
While green waste is biodegradable, when it's thrown into landfill instead of composted correctly, it generates a large volume of methane, a toxic greenhouse gas more potent that carbon dioxide.
Pinegro General Manager John Van Meel says composting offers an environmentally and economically superior alternative to disposing of organic material in landfill.
John says composting green waste reduces methane production while providing a range of economic and environmental benefits.
"Methane is 26 times more potent than carbon dioxide as a greenhouse gas and is a significant contributor to global greenhouse gas emissions."
How can you help?
City of Ballarat Executive Manager Waste and Environment Les Stokes encourages residents to only put garden waste in their green waste bin.
Les says the cost of removing contaminants (the wrong items) from the green waste bin is significant.
"Any amount of contamination in any of our bins, including the green waste bin, costs money to remove and to dispose of those items. The better we can repurpose our green waste, the more we can minimise the cost to residents.
"Transforming our green waste into compost reduces the volume of waste going into landfill and, most importantly, helps the environment."
Food organics
The Victorian Government is standardising household waste and recycling services including a combined food and garden waste service for all Victorians by 2030.
The City of Ballarat is investigating the introduction of food waste, also known as food organics, to our green waste service.
Just like green waste in landfill, food waste creates methane as it breaks down. Repurposing food waste with green waste will divert waste from landfill, help the environment and create compost.
In the coming months, the City of Ballarat will seek community feedback for the introduction of a food waste service, with a recommendation set to go before Council for consideration later this year.
What does and doesn't go in your green waste bin
Items that do includes garden products such as:
Prunings
Small branches – up to 10cm in diameter and 55cm long
Flowers
Leaves, including your autumn leaves
Grass and weeds
Items that do not go in your green waste bin:
Plastic pots
Plastic bags
Food waste
Glass
Metal or tin
Building rubble
Dog waste and kitty litter
City of Ballarat Council Plan Alignment