Recycling revolution
Tucked away in Mitchell Park's industrial area is a perfect example of the circular economy in action.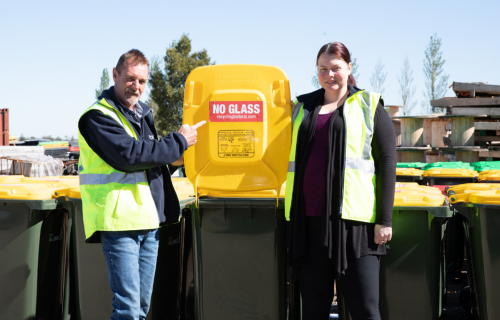 Ballarat Regional Industries (BRI) not only has the City of Ballarat contract to deliver new garbage bins but it also takes away old bins, puts them through a granulation process to break them down into tiny pieces and sells them to a plastic re-modeller to be made into new products then used across the municipality.
"It's like a really round circle," BRI manager Andrew Clarke says.
"It's actually a really, really good story because it's a Ballarat company (Replas) that we sell it to.
"They mould it into different types of products – it might be a park bench or a bollard."
Established in 1984, BRI provides jobs for people with disabilities and empowering them to live rich, independent and fulfilling lives.
As well as providing employment opportunities, BRI helps with workplace training, person-­centred plans that help people with disabilities live the life they want to lead and a range of support services to help with social participation.
Andrew has been with BRI for eight years and still marvels at the range of services they offer, particularly for the City of Ballarat.
There's also a kiln on site which heat treats timber for export while old broken wheelie bins from across Victoria, truck mudguards and some types of drums are broken down, put through the granulator and re-purposed.
"We also have a landscaping division that does some mowing and roadside clean ups."
BRI's events division helps with decorations for City of Ballarat events, installing the Christmas decorations in Sturt Street every year.
One of the recent contracts BRI carried out for the City of Ballarat was the placement of 'No Glass' stickers on all of the municipality's recycling bins.
According to Andrew, the process flowed "very smoothly."
And he has a message for all Ballarat households, particularly in light of the recent recycling changes caused by a push to use more of the product in local manufacturing.
"With any form of recycling, the better you sort it, the better dollar value we get for it."
Recycling changes 
With overseas markets no longer taking as many Australian recyclables, and with the collapse of former recycling contractor SKM, the City of Ballarat appointed a new contractor, Australian Paper Recovery, which specialise in sourcing paper, cardboard, aluminium and plastics for local markets.
To meet the requirements of these manufacturers the material needs to be as clean as possible. As a result, the focus of no glass, bagged rubbish and clean and empty bottles and containers is really important.
Residents across the municipality have been asked to take all glass out of their recycling bin to avoid it contaminating the rest of the recycling load, especially as glass can shatter in the bin and embed in the product.
The City of Ballarat is taking a lead by working closely with industry to find solutions that involve recycling glass.
By separating glass from recycling, the glass product remains clean and can be used for research and development opportunities, including road making materials and concrete product trials.
The intent is to use all glass recovered for the highest and best recycling purposes, with this ideally being the production of food and drink class containers of the future. The market within Australia is reasonably limited. The City of Ballarat is also exploring less high end uses such as road making materials.
Visit recyclingballarat.com to discover how you can better recycle and reuse. 
Page topics