ourballarat Spring 2021 Mayor's Message
Ballarat is growing. Our enviable lifestyle is attracting more people to reap the benefits of regional city living, where they can enjoy a more affordable lifestyle and a better worklife balance.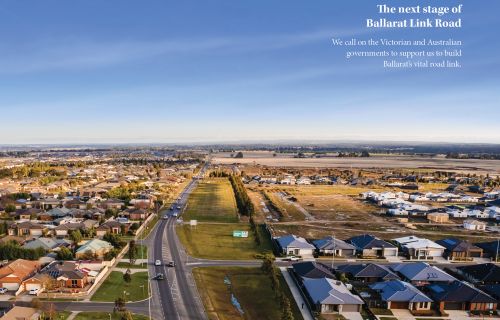 As a Council, we believe we can sustainably manage this growth while still ensuring Ballarat is a fantastic thriving and liveable city.
For some time now we have been planning for this growth, taking into consideration our future infrastructure needs.
With the Ballarat West Growth Area forecast to attract more than 16,000 new residents in the next five years, it's time to invest in the critical infrastructure that will address connectivity issues and reduce congestion.
That's why, in the lead up to the next state and federal elections, we are calling on all sides of politics to fund the $90 million needed for the next stage of Ballarat Link Road – including the duplication of Dyson Drive between Remembrance Drive and Ballarat-Carngham Road.
This major project will support our city's population and economic growth, better connect us to Western Victoria and alleviate traffic congestion – meaning we can get to work, school or the shops faster and more safely. Read more about our bid to secure funding for the next stage of Link Road.
This spring edition of ourballarat also has a focus on the City of Ballarat's 2021/2022 Budget.
This budget was informed by the Ballarat: Our Future community engagement process and reflects what you, our community, told us is important.
As a result, we are focusing on delivering key infrastructure and services, including a $2.3 million investment into footpaths. Read about our largest ever investment in footpath infrastructure.
Throughout this edition, you'll find a few budget facts that detail just how much the City of Ballarat is investing to maintain council assets and to deliver more than 80 services and 120 plus projects for residents and visitors.
This budget enables us to work together to create a brighter future for our city.
Mayor
Cr Daniel Moloney