Our stories of kindness
When a city bands together, incredible things happen and that's exactly what is taking place in Ballarat right now.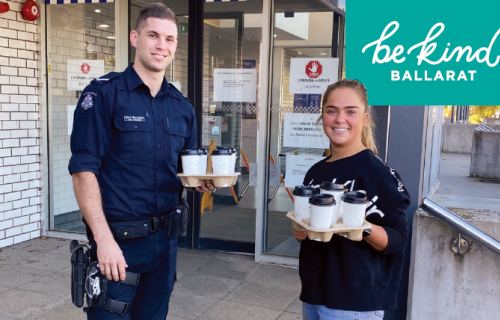 No-one could have predicted what was to come of the COVID-19 pandemic in Australia but what we do know is the people of Ballarat – our friends, our neighbours, our local businesses and our frontline workers – have risen to the challenge and are showing the world just what's needed to get through times like these.
Kindness.
As children we learn quite quickly how to ask for help.
As we grow into adults, we reconstruct this learning to replace the hand we once asked for into a hand offered to someone else.
This circle of compassion is enshrined into us all.
But when we're faced with the unknown, we're also faced with feelings and thoughts no-one could prepare us for.
We also know that when we're confronted with uncertainty, it will bring out the best and worst in people. And that's okay.
It's times like this when it's important to remind ourselves that things won't always be the way they are right now.
But despite the longing for things to return to what they once were, we're seeing the best in people every day in Ballarat.
Your kindness, generosity and community spirit will one day become a story we will tell future generations.
To the coffee drinkers paying-it-forward to our health care workers, our local winemakers who are turning their grape spirit into hand sanitiser and a Ballarat obstetrician and his wife helping support mums-to-be – you are the reason why we're a Compassionate City.
It is your stories that deserve to be re-told for years to come.
THANK YOU FOR BEING KIND TO ONE ANOTHER.
Here are a handful of the many stories of kindness we've discovered over the past few months.
Thinking of you packs Special cake packs from Kittelty's proved popular across Ballarat for people looking to surprise their family and friends with a sweet treat.
Baby talk for mums-to-be
Ballarat obstetrician and his wife, Pat and Brigid Moloney, have been helping pregnant women feel informed and supported.
The brains behind Grow My Baby, their four-part video series aims to help address any anxiety mums may be facing.
Love thy neighbour
The Little Cupcake gave away cupcakes for locals to gift to older neighbours or those with a disability.
Paying it forward
The Turret offered locals the option to buy coffees for our health professionals. St John of God Ballarat Hospital staff also found themselves feeling full after a donation of hot cross buns from Bakers Delight Ballarat City.
Food for the soul
Did you know the team at Sovereign Hill grows heirloom pumpkins in its gardens? They recently donated their freshly picked pumpkins to The Soup Bus Ballarat to help feed Ballarat's homeless.
A stitch in time
@party.of.three shared her story of kindness and generosity after a stranger helped her complete her grandmother's crochet blanket.
"The lady who put it together for me has never met me, but did this beautiful thing for me anyway."
The art of kindness
Ballarat's next generation have brought smiles to our faces through art.
Locals Tahlee, 5, and Xavier, 7, joined the Rainbow Trail on the road between Maryborough and Ballarat with their colourful hand-painted Be Kind sign.
Nourishing our community
The chefs at Freight Bar and Restaurant have been helping Ballarat's vulnerable with their Donate a Meal program.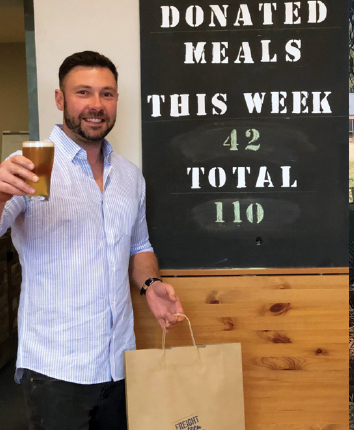 The Food Squad, Start Café and Delish Kebabs and Fish N Chips and others also offered free meals to our older residents.
Food for thought
To support local farmers and growers, Eat Drink West introduced Local Produce Boxes which can be purchased online.
The team made the search for food and coffee easy by compiling a list of local businesses offering takeaway and delivery options.
Energy efficiency
Ballarat local @talina_edwards found out her knowledge on building science could be traded for apples from her neighbour.
Easter love
More than 70 care packages were delivered to Cafs foster and kinship care families courtesy of the SJD Foundation Ballarat and local Jake Warren, who raised $4,000 when he shaved off his impressive beard.
The young people in Cafs Youth Care Program (Residential care) also received a special delivery of Easter eggs thanks to Newlyn's Maze House.
A sweet result
Leigh Edward, General Manager at Ferndale Confectionery and The So Soft Marshmallow Co, helped four residents find work while they waited to return to their regular jobs.
"In times of such hardship, I think it is so important to recognise any positives that we can over the coming months."
Got a story of kindness?
Email media@ballarat.vic.gov.au with your story or post it on social media with #bekindballarat