One-stop shop for Ballarat families
Ballarat's Girrabanya Integrated Children's Centre has almost doubled in capacity following a major renovation and expansion.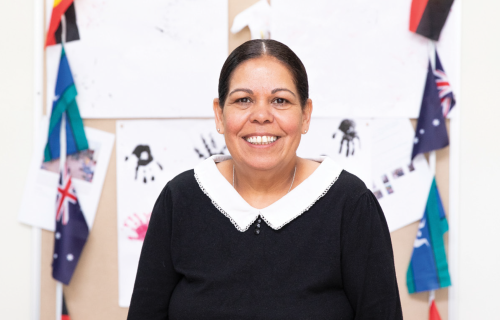 The Ballarat community can now find expanded family and children's services in the heart of the CBD courtesy of a $1.25 million Victorian Government revamp of Girrabanya Integrated Children's Centre.
The upgrade of the City of Ballarat centre in Steinfeld Street includes: 
• a new 23-place occasional care room 
• an expanded 33-place kindergarten room 
• an overall increase of 11 long day care places 
• an upgraded foyer, meeting space and kitchen. 
The City of Ballarat's occasional care service relocated to the centre after more than 30 years of operation in Market Street. The move provides greater flexibility for families, with the ability to transfer between different types of childcare.
"The expansion of occasional care, long day care and kindergarten services at Girrabanya is in response to a growing demand for childcare and kindergarten services in central Ballarat," City of Ballarat Director Community Development Neville Ivey says.
"Having a range of early childhood services integrated on the one site provides a one-stop shop for local families."
Maternal and child health and immunisation services continue to operate from the centre, with extra staff on-site to provide families with information about early childhood services.
In 2008, Ballarat was recognised by UNICEF as a Child Friendly City. Child Friendly Cities improve outcomes for children and community and provide a framework to consider the needs of children in planning. The City of Ballarat is committed to ensuring children's voices are heard and their rights are a central consideration in public policies and decision-making.
Proud Gunditjmara/Wotjobaluk woman Nikki Foy joined the City of Ballarat in 2019 as its first Aboriginal Cultural Liaison Officer.
Nikki's role within the City of Ballarat is to work with the community, Councillors, officers and customers to achieve outcomes for the Koorie community in Ballarat – to strive for reconciliation, maximum self-determination, or control of their own future, and sustainable positive change. Nikki will also work with City of Ballarat officers and the wider community to deliver, monitor and report on the third Reconciliation Action Plan that was launched in July 2019.
Nikki also works to ensure the Koorie community has equal access to the City of Ballarat's programs and, where appropriate, work to increase the use of council services to the Koorie community.
The name Girrabanya – an Indigenous word for "place of possums" – was chosen in consultation with the Ballarat Aboriginal Co-operative in the lead up to the centre's opening in 1992.
Nikki says the revamped centre is "a culturally-safe, supportive and inclusive space."
"Girrabanya staff incorporate Koorie perspectives throughout their programs. For example, at the beginning of each day, the children acknowledge the Traditional Custodians of the land and all Koorie community who live on Wadawurrung country.
"It's always great to walk into any service and see links to our culture, for example, acknowledgement plaques, Aboriginal flags and artwork." 
Nikki is a big advocate of the Victorian Government's Early Start Kindergarten initiative, which provides Aboriginal and Torres Islander children with 15 hours of free kindergarten a week for two years prior to attending school. To be eligible, children must be three years of age by 30 April in the year they'll start kindergarten.
Find out more about Girrabanya Integrated Children's Centre.