Unwin Winery moves to Ballarat
The decision by Michael Unwin to relocate his cellar door and establish a new vineyard at Cardigan is a coup for Ballarat, adding to the list of local attractions and a projected $2 million economic benefit for the region.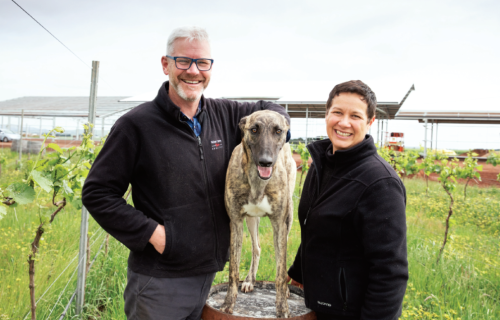 Award-winning winemaker Michael Unwin is about to witness a three-year plan come to fruition.
It was that long ago that he and his wife Catherine made the decision to move their successful family business from Beaufort to Ballarat to be closer to their loyal customer base and the growing population of a regional city.
Michael has spent that time nurturing new vines in the rich, fertile red volcanic soil at Cardigan – perfect for cool climate wines – and planning and building a winery that, when open, will be three times the size of his Beaufort operation.
The 40-hectare property on Remembrance Drive houses three huge buildings, with a red (earth) floor, believed to be the first in the western world (Michael is unable to find a modern precedent).
The development is set to create a whole new cellar door experience for visitors who will arrive via a picturesque drive.  A storyteller at heart, Michael is keen to share the process of winemaking with his customers, from planting to bottling and of course – tasting.
Expect some new varieties to emerge out of this move – chardonnay and pinot noir and other more bolder varieties; gamay, pinot blanc and verdejo.
The Unwin's well-known warmer climate varieties continue to be sourced from the Grampians, Pyrenees and Moorabool regions.
After 15 years at Beaufort, Michael Unwin is grateful for the support of Ballarat people. "I just hope they will continue to follow us, come out and enjoy the experience and watch us grow," he says.
A 'soft opening' is expected in the new year.
The Michael Unwin venture is an example of where the City of Ballarat's Business Concierge service works to assist new and existing businesses when setting up or growing their business. Delivered by the City of Ballarat's Economic Development team, the concierge service provided Michael with a single contact within the City of Ballarat to facilitate and guide him through the planning and building processes to meet his business relocation timelines.
Page topics