City of Ballarat celebrates massive investment by the Victorian Government ahead of the Victoria 2026 Commonwealth Games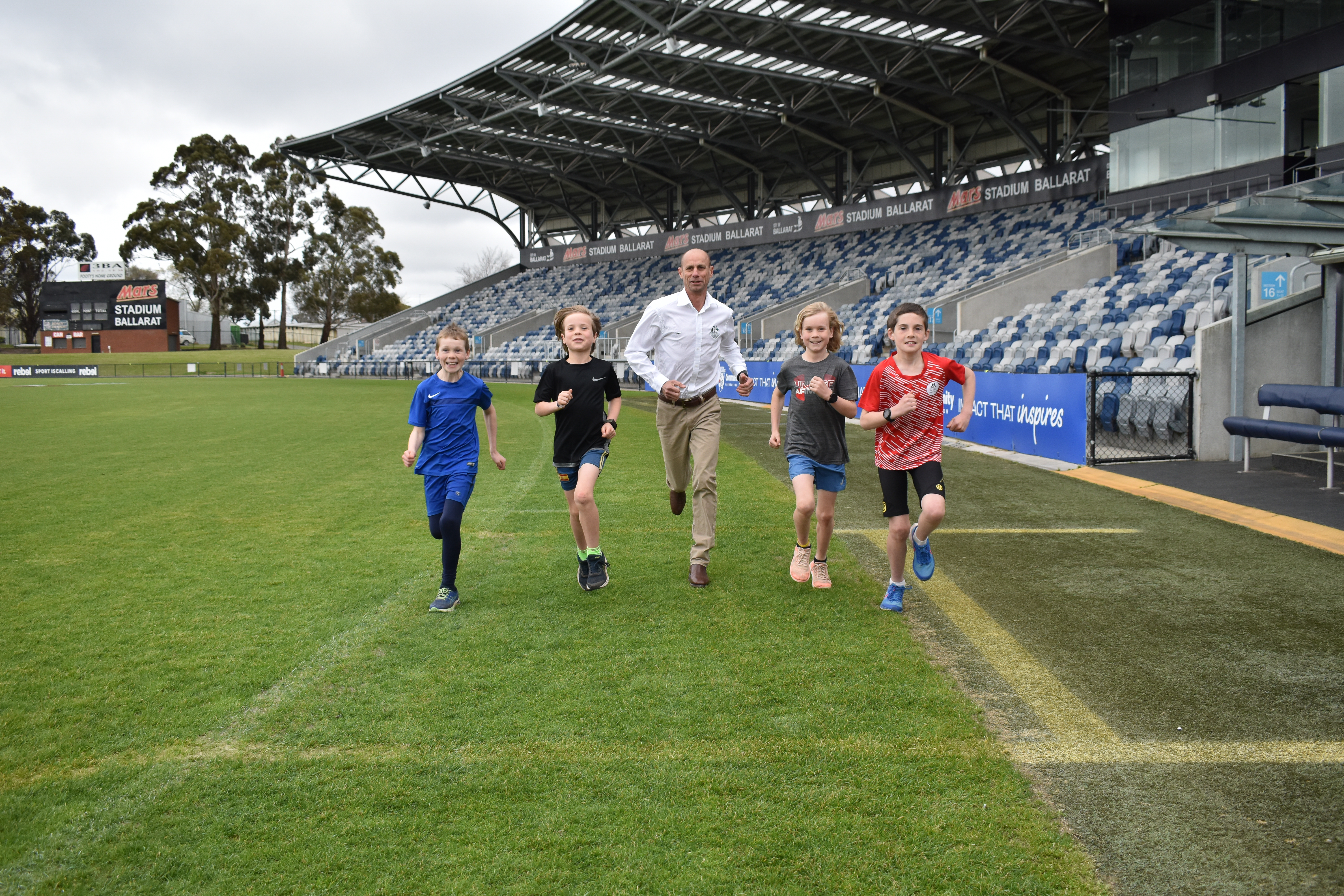 City of Ballarat today received one of the biggest funding and infrastructure development announcements in its history with the Victorian Government committing up to $200 million to make Ballarat Games-ready for the Victoria 2026 Commonwealth Games.
Key elements of the announcements made today by Deputy Premier, Jacinta Allan MP included:
Eureka Stadium Investment: Up to $150 million to upgrade Eureka Stadium, including an additional 5000 permanent seats, improved accessibility and 18,000 temporary seats
Ballarat Train Station Upgrade: $50 million to upgrade the Ballarat Train Station to make it accessible for people of all abilities.  Works will include passenger lifts on both platforms and a connecting pedestrian overpass.
Athletics facility: A new permanent athletics facility will be built on the Ballarat Agricultural and Pastoral Society (Showgrounds) site (south of Eureka Stadium) to serve as a warmup track during the Commonwealth Games.
Marathon: The Commonwealth Games marathon events will be run in Ballarat.
Athlete Village: The athlete village will be built on the Latrobe Street saleyards site.
Mountain Bike Racing: The addition of mountain bike racing as a sport at Victoria 2026, is to be held at Creswick Trails, with competitors housed at the Ballarat athlete village. City of Ballarat and Hepburn Shire Council worked in partnership to advocate for the event.
Ballarat Mayor Cr Daniel Moloney said the magnitude of the investment was extremely welcome.
"This investment will help ensure our city is ready for the tens of thousands of visitors expected in Ballarat each day during the Games", Cr Moloney said. 
"From a Council perspective we are particularly pleased that this investment will help fast track delivery of a number of Council's long term strategic infrastructure priorities, including development of a world class sporting precinct, upgrade of the Ballarat train station and regeneration and revitalisation of the Latrobe Street saleyards site."
"We've been working closely with the Victorian Government and Commonwealth Games officials for months to ensure the Games leave a long-term and enduring legacy for Ballarat.  Today's announcements give us a strong level of confidence we will achieve that".
"This is an outstanding result for our city and for the region more broadly. We can look forward to a bounce in our local economy in the lead up to Victoria 2026, particularly in the construction sector, as a pipeline of Commonwealth Games-related projects are delivered."
"It has the potential to be an economic win for the next few years as the Victorian Government invests in works to provide the necessary sporting, transport, housing and social infrastructure to ensure Ballarat is Commonwealth Games-ready", Cr Moloney said.
"Add to that the excitement and drama of two weeks of elite sporting action, accompanied by an influx of international and Australian sports fans, and we can expect a massive boost for our visitor economy sector during the event - for restaurants, bars and cafes, for accommodation providers and for our key tourist attractions."
"The lead up, investment in and delivery of a successful Victoria 2026 Commonwealth Games in Ballarat will have positive local impacts for years to come".
Marathon
Cr Moloney said he was delighted City of Ballarat's strong advocacy had helped secure the Victoria 2026 marathon events for Ballarat.
"Our city has a long and proud history of achievement in distance running, from community competition through to elite level competitors"
"We can make sure it is the best spectator event Victoria can offer. Sport is a way of life in Ballarat and local fans, including those from around Western Victoria will embrace the chance to experience a world class event on their own streets, at no cost," Cr Moloney said.
"Whether it's the tree-lined boulevard of Sturt Street, our rich array of 19th century heritage buildings in Lydiard Street, Lake Wendouree, or our Botanical Gardens, there will be excellent viewing opportunities for spectators."
"The streets of Ballarat will make an outstanding backdrop for broadcast, giving people around the world the chance to see the best of our city when they tune in to watch the marathon events."
Cr Moloney said an important part of the legacy of the Victoria 2026 Commonwealth Games would be the impact it has on young athletes, particularly those with aspirations to compete at the highest level.
"I've no doubt the chance to see elite athletes competing in Ballarat during the Victoria 2026 Commonwealth Games will inspire the next generation of emerging athletic talent. We know that several of Ballarat's best young athletes are training hard in the hope of competing in front of a home crowd at Victoria 2026".
Mountain Bike Racing
Cr Moloney said inclusion of the mountain bike racing program at Creswick Trails was evidence that the excitement and experience of the Victoria 2026 Commonwealth Games would expand beyond the four key hubs to provide opportunities and benefits to multiple regional areas.
"We've been proud to partner with Hepburn Shire in advocating for the inclusion of a mountain biking program in the Victoria 2026 Commonwealth Games, and for the events to be held at Creswick Trails. Mountain biking will be a fantastic addition to the program, ensuring the Games appeal to a broader and younger audience."
"Having the event staged in Creswick will provide a significant economic boost to the region and provide an incredible athlete experience in the Ballarat athlete village."
Athlete Village at Latrobe Street Saleyards Site
Cr Moloney welcomed news that the Victorian Government has chosen the former Latrobe Street saleyards site as the location for the athlete village.
"This truly will be a transformational project for this area. The government's decision to locate the athlete village here, at the gateway to Ballarat's Western Growth area and on the fringes of Victoria Park, gives a much-needed vision - and a positive future – for a prime piece of land," Cr Moloney said.
"Critically, it will provide our community with one of the most valuable and tangible legacies of the Victoria 2026 Commonwealth Games - a new and diverse stock of affordable and social housing."
"It's a strategically important site that has been a priority for Council over many years. We will work with the Victorian Government to ensure the best possible outcome for the community, one that aligns with Council's vision as articulated in the City of Ballarat Council Plan 2021-2025. That is to 'partner and collaborate to … Facilitate future planning for opportunities related to the La Trobe Street Saleyards Precinct' and to 'unlock potential in major brownfield redevelopment sites', which is exactly what this will achieve."  
"This will be amazing. It will bring forward something that was probably 10 or 15 years away and is likely to be the catalyst for a larger piece of work taking in the broader Latrobe Street Precinct (which includes the saleyards site, transfer station and animal shelter), and better integrating and connecting the area with the new Western Growth Areas and with Victoria Park."
"The construction of the athlete village on this site and its later conversion to social, affordable and private housing also presents a wonderful opportunity for many existing Latrobe Street businesses," Cr Moloney said.