Message from the CEO
This year has been difficult for all of us but I am incredibly proud of the way our community has risen to the challenge. Summer is here and I am confident we will continue to make advances in the months ahead.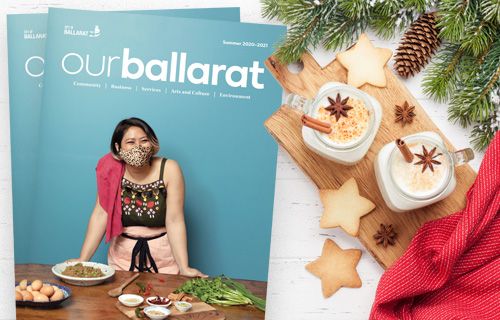 This edition of our renamed and redesigned magazine, ourballarat, has a focus on getting Ballarat back to business. We speak to business owners across a range of industries about their journeys through COVID-19. I ask you all to get behind and support Ballarat businesses as they strive to recover from the economic impacts of this crisis.
The past few months have also witnessed a period of rejuvenation and renewal at the City of Ballarat. A number of senior personnel changes have been finalised, which will lay the foundations for our newly elected Council's agenda for the next four years.
Our four new directors bring a wealth of skills and knowledge to our leadership team to help Council deliver for our community and make Ballarat an even more liveable and prosperous city.
Sean Portelli has been appointed Director Corporate Services. Sean is a Fellow of the Institute of Public Accountants and has executive experience in local government and the education sector.
Ballarat environmental engineer Bridget Wetherall is our Director Infrastructure and Environment. Bridget has 20 years' experience in the public and private sector, and holds a degree in Environmental Engineering and a Graduate Diploma in Environmental Law.
Community services leader Matthew Wilson has been appointed Director Community Wellbeing. Matthew has worked for 22 years in the local government sector and comes to us from Melton City Council. Matthew has a Master of Business Administration majoring in Public Administration.
The final appointment is Natalie Robertson, Director Development and Growth. Natalie has an extensive background in Statutory and Strategic Planning, Regulatory
Services and many major projects related to economic growth and development. Natalie has a Graduate Diploma in Urban, Rural and Regional Planning and is studying a Master of Business Administration.
Many high-quality applications were received for these positions and the recruitment process was comprehensive and thorough. The appointments complement the organisational governance and culture assessment review conducted by Susan Halliday AM.
A new Chief Executive Officer, yet to be announced, will oversee an exciting new era for the City of Ballarat from 2021.
I am confident the City of Ballarat's newly appointed leadership team will steer our organisation in a positive and progressive direction and guide our new Council's approach and response to the COVID-19 pandemic and future challenges.
Stay safe and stay well.
Janet Dore
Chief Executive Officer