Looking up to a leafy legend | ourballarat Spring 2021
The City of Ballarat's Exceptional Tree Register is a formal list of significant trees in Ballarat. The register helps to identify and protect exceptional trees on private and public land, including a majestic old tree next to the Bakery Hill Kindergarten.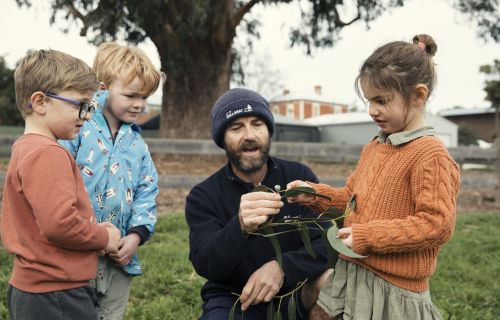 Beside the Bakery Hill Kindergarten at Lakeland Square stands an old Tassie Blue Gum.
Believed to have been planted between 1860 and 1880, this modest giant stands more than 40m in height.
With each new year, the tree has gained the love and fascination of the children at the kindergarten.
When the children stare up into the foliage, they see far more than a tree – they see a leafy legend that fills their world with stories, imagination and discovery as well as a connection to Indigenous culture and community. 
Recently, through the Wadawurrung Language app, the children have learnt about their feathery and furry friends that visit and inhabit the tree. 
With binoculars, the children have watched the tree and learnt about the Waanawal (Owl), the Djirnaps (Cockatoos), Porrgil (Rosellas), Parrwang (Magpie), Kuwarrk (Kookaburra) and many others.
When City of Ballarat Arborists were recently seen working on the tree, the children became concerned for the future of the tree and wrote to the City of Ballarat, expressing their love for their leafy, giant friend. 
Their fears were soon allayed when they discovered the team was in fact collecting data and measurements for the Exceptional Tree Register. 
Launched last year, the register offers, for the first time, the opportunity to recognise, celebrate and protect our exceptional trees.
The City of Ballarat's Exceptional Tree Register lists 127 exceptional trees, including individual trees, groups of trees and avenues. The Avenue of Honour is our largest tree group and includes 3,801 trees. 
City of Ballarat Vegetation Officer Tony Marshall says it's great to see the kindergarten children showing love and care for our local trees. 
"Every one of our trees on the Exceptional Tree Register has a story to tell and if people haven't already, they should jump online and discover the significant trees local to them," he says.
You can nominate a tree for inclusion on the City of Ballarat's Exceptional Tree Register. Discover more about the register.