June finds her happy place at Parent Place | ourballarat Spring 2021
When Japanese-born June moved to Ballarat, she didn't know a soul.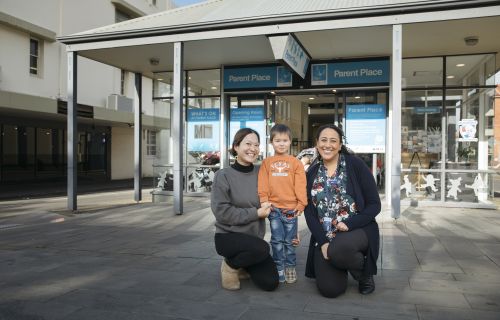 So with daughter Mizuki, she headed to where she could meet other mums with babies – the City of Ballarat's Parent Place.
There, June not only made new friends but also took up volunteering, with son Mak, three, enjoying activities at Parent Place while Mizuki, six, is at school.
"One of my friends was volunteering and recommended I join up as well. It was a very good idea as I get to see lots of local people who have kids," June says.
"Also, I am Asian and we see lots of Asian mums. Culturally, in some ways, there is a difference in how western cultures and Asian cultures look after children so it's handy to have someone who understands.
"Asian mums who come here find it easier to share ideas and opinions with me and I can meet new people who are similar to me, with new kids and the same background as me, living nearby."
Parent Place Facilitator Angela East says up to 15 more volunteers are needed to keep the centre running smoothly. 
"There's been an increase in demand plus a drop off in volunteer numbers," Angela says. "We're looking for volunteers across a broad range of ages.
"Parent Place provides a range of great services and it's also a hub where parents and children can connect."
Volunteers can help with activities such as storytime sessions, chat with parents and help to link parents with appropriate services. 
Located on the corner of Albert and Sturt Streets, Parent Place also has a Maternal and Child Health drop-in service, a lactation consultant, family law and violence advice, a CatholicCare parenting educator, Roll, Wriggle and Rhyme for babies and toddlers, and craft sessions and other activities. Parents can also drop in to feed and change their babies, obtain information or just have a play.
Parents can access information about playgroups, kindergartens, immunisation, childcare and family day care on 5320 5165, via Facebook Messenger or email parentplace@ballarat.vic.gov.au