Investing in the Bridge Mall
The City of Ballarat's $15 million investment in the redevelopment of Bakery Hill and the Bridge Mall is a major step forward in the revitalisation of Ballarat's CBD. Another way of reinvigorating the space and encouraging more investment and attracting tenants to the Bridge Mall is the renovation and opening up of many second-storey spaces.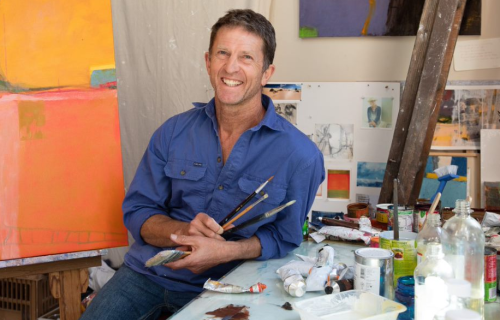 Artist Steve Sedgwick, whose speciality is large, abstract oil paintings, is a second-storey tenant in the Bridge Mall.
For the past year, he has rented the space above Riot Art and Craft as an art studio after receiving a kick-start with the Ballarat Evolve arts program, which linked private businesses with micro-creative enterprises and artists while providing access to empty retail spaces throughout the city's CBD.
"It's not commercial, it's just a place to work. But it's a great space, it's big and has good natural light," Steve says.
In pre-pandemic times, he was also able to run open studios in the space, inviting the public to come and see the studio and the artist at work, rather than only seeing the finished piece in an exhibition setting.
When Bridge Mall building owner Theo Frangos first purchased his building, renovations to the upstairs area had already been completed.
Theo added to these, making the space a multipurpose area. It can be used as a living space, a storage area and now, as an art studio.
"After I did it up it was better for me and better for anyone looking to rent out the space," Theo says.
"I'd encourage anyone to rent out their second-storey spaces. If you let it, you get a nice return and you've got someone looking after it. You also get an extra income."
– Theo Frangos
Prosperity Portfolio Councillor Jim Rinaldi is pleased to see the Bakery Hill and Bridge Mall Precinct Urban Renewal Project has reached this stage.
"The Bridge Mall project is the first step in an ongoing process of urban renewal. Bridge Street was one of the earliest commercial shopping strips within Ballarat," Councillor Jim Rinaldi says.
Following an expressions of interest process, the City of Ballarat has selected design company Hassell Studio to begin working on concept designs for the area. Once completed, the community will have a chance to have its say on the proposed design of the Bridge Mall redevelopment.
The City of Ballarat will then tender for companies to undertake the construction works.
Councillor Rinaldi says the project will help identify the historical significance of the Bridge Mall and its links to the past.
"Reinvigorating second storeys are good for the area and the community."
– Cr Jim Rinaldi
Both Steve and Theo agree that having people living and working in buildings in the Bridge Mall is great for tenants and for landlords.
"It's a good way of reinvigorating these spaces," Steve says.
"Spaces like this have the potential to become a tourist hub," he says, mentioning that The Rocks in Sydney and Salamanca in Hobart have a thriving arts scene that draws people in.
"Places like this can generate activity in an area that's struggling, by generating colour, light, movement and people," Steve says.
He encourages landlords to look outside the box when considering renovations or when planning to rent out their spaces.
"We don't need much. Artists are quite resilient. A little bit of support and we can do a lot," he says.
The Bakery Hill Urban Renewal team will be talking to building owners in the area in the coming months about initiatives that may help rejuvenate and utilise unused spaces.
Go to mysay.ballarat.vic.gov.au for updates on the Bridge Mall redevelopment.
Are you a building owner and want to find out how you can reinvigorate your building?
For more information about this project contact City of Ballarat Business Engagement Officer Kizanne Davies at kizannedavies@ballarat.vic.gov.au