Field Air's big vision
In April 1963, armed with a big vision, the late Ray Mackay chose carefully when he started his agricultural aerial spraying and spreading company at Ballarat Airport.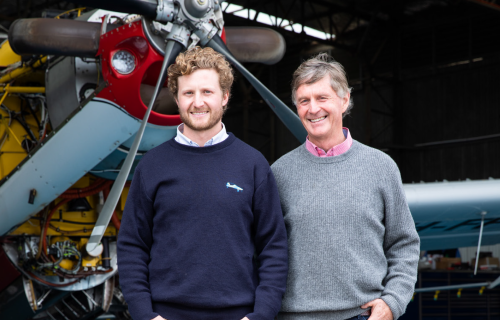 Fifty-six years later Field Air is a Ballarat success story. Ray's son Peter and grandson Andrew run the thriving business in conjunction with a long-serving team of dedicated employees and management staff.
Field Air has expanded its services to include aerial firefighting, pilot training, aircraft sales and maintenance and regional bases in Deniliquin, Finley and Hay, supported by 50 permanent staff and a fleet of 18 aircraft.
Peter Mackay is the company's managing director. He says his father chose to set up business in Ballarat because it offered good infrastructure and a great lifestyle.
"Ballarat Airport offered excellent facilities and was centrally located to the Western District, Wimmera and Mallee, where demand for aerial agricultural support services was greatest. These were essential factors in my father's decision to start Field Air in Ballarat. In the beginning there were two pilots, two small Piper Pawnee aircraft, two loading trucks, a couple of Holden utes and three ground support personnel," Peter says.
A turning point 
In 1978 Field Air imported two Air Tractor aircraft from the USA to provide larger, more cost-effective aircraft to service rice growing operations in the Riverina.
Ray Mackay secured the Australian dealership for Air Tractor, the world's largest manufacturer of agricultural and firefighting aircraft. Peter says it was a turning point.
"We extended the dealership to include Asia and the west Pacific region, selling into China, Malaysia, the Philippines, Indonesia, New Zealand and in Australia."
Fire fighting 
When the Australian fire season hits Field Air is at its busiest, contracting its fleet of specialist firefighting aircraft – Air Tractor AT- 802F's – to battle the devastation caused by blazes in Victoria, New South Wales and Tasmania. Ballarat can be proud of the role this local company plays in protecting communities around the country.
"The AT-802F's have a 3200-litre capacity and computerised technology for accurate placement of fire suppressants, they're recognised around the world as extremely effective initial fire attack aircraft.
"We're also responsible – in conjunction with Canadian company Conair – for the Australian operations of the Avro RJ-85, larger air tankers which are deployed on contract to fight fires around the country."
Field Air has recently installed an Air Tractor flight simulator to train local and international pilots and has expanded its maintenance facility to employ 25 aircraft maintenance engineers. 
A longer runway 
The north south runway at the Ballarat Airport was cut in half by an access road in the 1960s. The City of Ballarat is seeking $22.5 million funding from the Victorian and Australian governments to reconnect and upgrade the runway to reduce ongoing maintenance cost. A business case to support the investment is underway. This is core infrastructure for a regional city the size of Ballarat. 
Peter says Field Air's capacity to expand further at Ballarat Airport and to create more jobs, is limited by the length of the runway.
"We'd like to expand our aircraft maintenance capabilities at Ballarat Airport but because larger planes can't land here our engineers have had to go off site to carry out maintenance on these aircraft. We're spending money out of town to do business, we'd much prefer to have the facilities in Ballarat to do this work – access to a longer runway to bring in larger aircraft is essential for us."