Empowering businesses to exchange waste as a resource | ourballarat Spring 2021
If Eliza Whitburn-Weber has her way, your next coffee from a Ballarat café might do a whole lot more than give you a morning pick-me-up.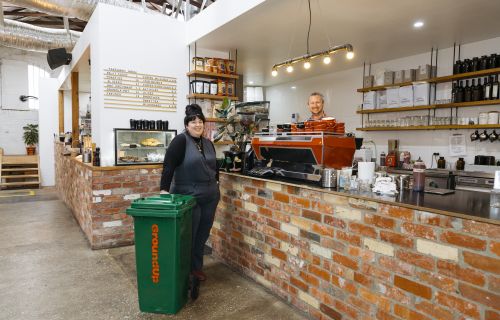 Eliza recently launched a new business, GroundUp Coffee Recyclers, which collects coffee grounds and kitchen scraps weekly or fortnightly from Ballarat hospitality businesses.
Instead of going to landfill, the coffee grounds are distributed in compostable bags to local regenerative farmers to use as compost to grow food, wine and flowers.
The business is one example of the circular economy at work in Ballarat – that is, where products previously seen as waste are exchanged as valuable resources to be re-used, returned or repaired.
While a number of local cafes have sustainable practices in place, Eliza's is the first business of its kind in Ballarat to offer a dedicated collection service for hospitality outlets.
"We've got this tangible service where people are able to say 'Great! I can give my scraps and coffee grounds to GroundUp, who then take it out to farms that I might buy produce back from'," Eliza says.
Apart from a win for businesses and farmers, the service has an obvious environmental benefit through lower greenhouse emissions.
"In Ballarat alone we've calculated that coffee grounds emit about 450,000kg of CO2," Eliza says.
While her business has started with 10 local cafes signed up, she hopes to expand to more businesses and more areas.
"I think we're only at the very beginning with businesses starting to think outside the box as far as waste is concerned."
Going circular with ASPIRE
The City of Ballarat is supporting two new programs to help Ballarat businesses adapt their operations to a 'circular' model.
The City of Ballarat is now a member of ASPIRE – an online marketplace for businesses to exchange waste as a resource.
The ASPIRE program was developed by the CSIRO to help small and medium manufacturers offset the increasing costs of disposing waste to landfill.
ASPIRE will match one business's waste resources with another firm that can re-manufacture, purchase or recycle those resources.
Ballarat businesses with less than 100 employees can access free ASPIRE memberships.
City of Ballarat Economic Development Projects Officer Siobhan Dent says the initiative will lead to lower waste disposal costs for business and less waste to landfill. 
Business development program 
The City of Ballarat is also offering a short-term, intensive business development program for local businesses.
Hosted by Runway Ballarat and subsidised by the City of Ballarat, the Get Ready, Get Set, Grow! program will help participants identify circular opportunities in their operations and understand and reduce some of the problems they face in making the transition.
This will in turn improve profitability while reducing environmental impacts and build business networks to buy and sell commodities.
ASPIRE – Get Ready, Get Set, Grow!
This online platform sets businesses of any scale on the circular economy pathway to:
save costs on waste disposal
earn revenue from waste
divert waste from landfill
create new supply chains
connect businesses
build innovative solutions for re-use and recycling
identify opportunities for exchange or sale
keep track of waste diverting from landfill
exchange resources
CO2 emission savings