Eating well and feeling good | ourballarat winter 2023
Launched in October last year, the trial 'Eat Well Feel Good' initiative has added a range of healthy food options to the menu at the Selkirk Stadium café. Now the trial is complete, the healthy food options are here to stay.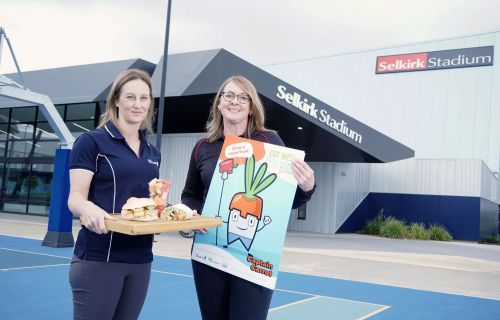 From salad rolls and wraps, to veggie sticks with dip, the Selkirk Stadium café offering is looking different these days. Even the drinks fridge has had a makeover, in which water and sugar-free drinks such as sparkling water take pride of place.
The changes are the result of the 'Eat Well Feel Good' initiative which aims to promote a healthy food and drink environment across Ballarat and is one action within the VicHealth Local Government Partnership to improve the health and wellbeing of children and young people.
The City of Ballarat, Ballarat Community Health and Basketball Ballarat have collaborated to introduce healthier options at the café and to create consistent marketing materials to promote the new, healthy products. 
Rewards for sports
City of Ballarat Health Promotion Officer Natalie Grero says the other element of the 'Eat Well Feel Good' initiative is the sports rewards program, in which vouchers for healthy food options were distributed to sports teams that use the stadium.
"Players can redeem the vouchers at the café in exchange for a healthy food or drink option," she says.
"The sports rewards program provided an alternative to fast food and takeaway awards to help promote health and wellbeing among children.
"Reports from the café suggested this initiative was a success with a high uptake from participants redeeming vouchers."
A study revealed 45 percent of people who noticed the Eat Well Feel Good branding at the café agreed that it either increased their knowledge of foods available or influenced their purchase. 
Consistent messaging across Ballarat
While the 'Eat Well Feel Good' initiative has proved popular at Selkirk Stadium, Ballarat Community Health Healthy Communities Coordinator Melissa Farrington says instilling healthy habits in young people requires consistent messaging across multiple locations.
"Ballarat Community Health works across a number of settings, with Selkirk Stadium being one setting," she says.
"If young people are seeing that healthy eating messaging there, and then maybe at school, at pools and at supermarkets, it will help with reinforcing that message." 
City of Ballarat Council Plan Alignment