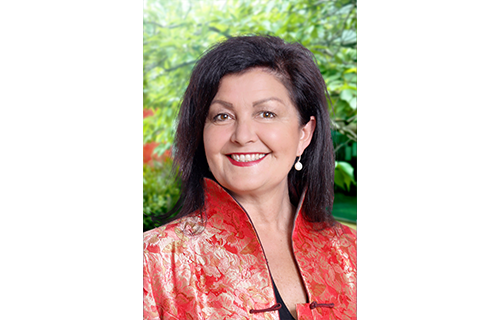 About Councillor McIntosh 
Samantha McIntosh is a Central Ward Councillor (since 2008) and is a confident and visionary leader, working to build Ballarat's reputation as a progressive and forward-looking historical city, the regional capital of Western Victoria.
She is well known for taking a strategic approach to the Councillor role; lobbying governments, forging partnerships and advocating strongly on behalf of Ballarat and its residents. Awarded as Emeritus Mayor by MAV in 2019 after three consecutive Mayoral terms. Her focus has included delivering a strategic vision for the city which facilitates job creation, attracts investment and delivers essential services and infrastructure.
First elected to Ballarat City Council in December 2008 to represent the municipality's North Ward. Re-elected in the Central Ward in 2012 and 2016; Cr McIntosh served as Deputy Mayor in 2012 and Mayor in 2016, 2017 and 2018.
Under her leadership, the City of Ballarat continued to partner with governments and the private sector to deliver priority projects for the city including the redevelopment of Civic Hall and the Ballarat Station Precinct, and new builds including GovHub and the Ballarat Sports and Events Centre.
Significant state and federal funding was also secured through this period to begin projects like Link Road, Ballarat West Employment Zone (BWEZ) and airport developments.
Cr McIntosh has played an active role in the Prosperity portfolio of Council including, tourism, creation of local business opportunity, and a broad array of economic development initiatives.
Cr McIntosh has trained as a registered nurse, has owned and managed tourism hospitality and health support venues, and worked as a real estate agent in Ballarat.
Cr McIntosh is married, has four adult children and two grandchildren.
General enquires
Community members with matters they would like to raise with councillors should first contact the City of Ballarat Customer Service team on 5320 5500 or submit a report using the Snap Send Solve app or using the Report an Issue Online form in the first instance to ensure the matter is logged accordingly.
Get in touch
To contact the councillor directly, send an email to samanthamcintosh@ballarat.vic.gov.au or call 0458 004 880
Current committees
Her Majesty's Theatre Board Delegated Committee
Planning Delegated Committee
Coghill's Creek / Glendaruel Cemetery (as Trustee)
Learmonth Cemetery(as Trustee)
Arch of Victory / Avenue of Honour Advisory Committee
Ballarat Heritage Advisory Committee (Chair)
Ballarat Airport / Aerodrome Stakeholder Reference Group (Chair)
Lake Wendouree and Gardens Stakeholder Reference Group (Chair)
Australian Local Government Women's Association
Integrated Transport Internal Working Group 
Municipal Association of Victoria (MAV)
MAV Rural South-Central Region Group