Caring for our trees | ourballarat Spring 2021
The City of Ballarat's Arboriculture team cares for our magnificent leafy streetscapes and the hundreds of trees in our parks and gardens. This team of dedicated arborists manages the city's vast urban forest for our community.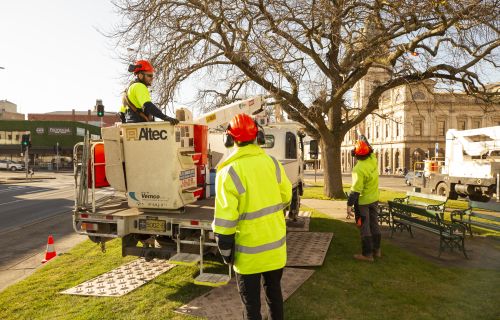 City of Ballarat Arborist Supervisor Mitch Kemp says it's rare for most of us to stop and consider just how remarkable the trees in urban environments really are.
"Somehow, they manage to quietly and stoically endure the urban impact of hard pavements, root disturbance, soil compaction, powerlines and more, to deliver so many benefits that contribute to our city's urban liveability," he says. 
Just imagine, for a moment, there were no trees in Ballarat – no wind breaks, no shade or softening of our highly constructed landscape.
Luckily that is not the case and despite the occasional inconvenience of raking leaves, cleaning gutters or an uneven footpath, there is far greater enjoyment to be found in their leafy canopies, cooling shade and golden autumnal splendour. The value trees bring to our everyday lives, property and mental health is immeasurable.
Ballarat is home to some of Australia's most spectacular leafy streetscapes and among the acres of adjoining tree laden parks stand many 19th century historic plantings, still providing great benefit to the community. 
Their presence today is a credit to the professional knowledge of Ballarat's Arboriculture team. They know how to manage trees, how to read a tree's health, to estimate the likelihood of structural failure and assess the potential consequences should such a failure occur.
"When managing 120,000 or so trees, our team's professional training and knowledge in species management is critical," Mitch says.
"Knowing how each tree species responds to age and impact helps to arrive at a solution. It could be as simple as pruning or sometimes as complex as deploying mechanical bracing technology.
"Within the team there is a wealth of tree knowledge and we are always happy to share that with the community."
So next time you find yourself standing within the shade of a majestic urban tree, consider what it has overcome in its lifetime – it's not just a tree, it's a significant part of Ballarat's living history. And rest assured, a team of highly skilled arborists is keeping an eye on it.
City of Ballarat Budget 2021/2022 
The City of Ballarat has allocated $500,000 annually over the next 10 years to deliver the municipality's largest tree planting program. The trees are being progressively planted to ensure the new plantings can be well maintained.
For more information view the City of Ballarat Budget 2021/2022.