Vietnam Veterans Memorial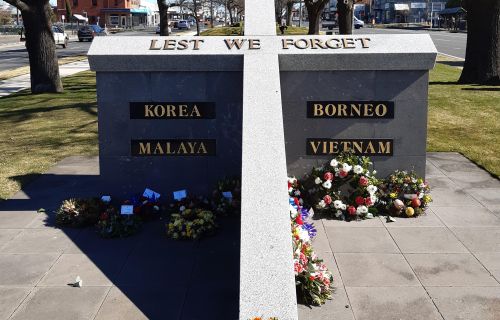 Vietnam Veterans Memorial Service – Sunday 13 August 2023
A commemorative service will be held on Sunday 13 August at 11am at the Southeast Asian War Memorial (corner of Sturt and Dawson Streets). 
At 10.45am Vietnam veterans will march eastbound down Sturt Street to Dawson Street. 
The formal service will commence at the memorial at 11am.  
The service is expected to conclude by noon. 
Event information: 
Vietnam Veterans Day is commemorated on 18 August each year. 
On 18 August, we commemorate Vietnam Veterans' Day on the anniversary of the Battle of Long Tan in 1966. We remember the sacrifices of those who died and say thank you to almost 60,000 Australians who served during the 10 years of our involvement in the Vietnam War. 
The Ballarat Vietnam Veterans Day Commemorative Service is held on the Sunday prior or closest to that date. 
The commemorative service is held at the Southeast Asian Memorial in Sturt Street, Ballarat. 
The event represents a significant opportunity to honour the service and sacrifice of veterans, educate the community about the history of service in conflicts, and the current service and peace keeping operations being undertaken by Australians. 
Traffic information: 
For the safety of participants and all road users, the following traffic alterations will be installed for Sturt Street:
From 6.30am the intersection of Dawson St and Sturt St will be closed to traffic in all directions with no through traffic. The intersection will re-open at approx. 3pm.
From 10am the 500 block of Sturt Street (btw Dawson St and Lyons St) will be closed to traffic in both directions.
Westbound traffic on Sturt St will be diverted into Doveton St to re-join Sturt St via Dana St and Lyons St.  
Eastbound traffic on Sturt St will be diverted into Lyons St to re-join Sturt Street via Mair St and Dawson St.  
Please note that:
PTV bus stops in the 500 block of Sturt Street will be closed between 6.30am and 3pm, please access the next nearest bus stop convenient to you.  
Pedestrian access to shops and services remains available during these altered traffic conditions.  
Speed restrictions and some short delays are expected; all road users are reminded to approach the area with caution and follow the direction of traffic marshals.    
For further information contact the events unit on (03) 5320 5500 or via email at events@ballarat.vic.gov.au.