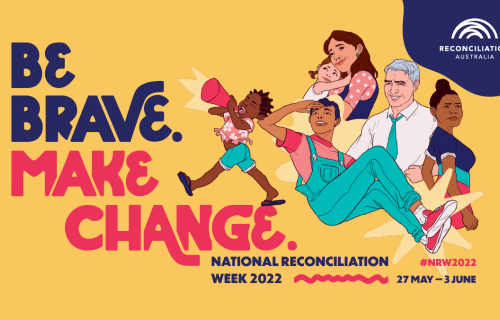 About Reconciliation Week
Reconciliation Week is a time for all of us to learn about our shared histories, cultures, and achievements, and explore how we can help achieve reconciliation in Australia.
Reconciliation Week runs from 27 May to 3 June each year. These dates commemorate two significant milestones in the reconciliation journey: the successful 1967 referendum and the High Court Mabo decision.
Reconciliation Week 2022 events
Thursday 26 May
National Sorry Day Wreath Laying Ceremony.
10am Queen Victoria Square Community Flagpole
Public Event followed by a morning tea in the Trench Room
Monday 30 May
Flag Raising ceremony with City of Ballarat Mayor
2pm Queen Victoria Square Community Flagpole
National Sorry Day 2022 Statement
The Wadawurrung People have always been and will continue to be the owners and custodians of the land that we call Ballarat.
Every year on this day, National Sorry Day, Australia remembers and acknowledges the mistreatment of Aboriginal and Torres Strait Islander people who were forcibly removed from their families and communities, which we now know as the Stolen Generations.
The generational trauma caused by this practice is still felt today by Indigenous peoples and their families. Families that live, work, and continue connections to their land right here, right now.
Everyone deserves and has the right to feel welcome, included, valued and safe. This is a fundamental human right.
Today we say to the Aboriginal and Torres Strait Islander people who call this land home, we see you, we hear you, and we are listening to you.
Today, the City of Ballarat with endorsement from Ballarat's Koori Engagement Action Group, will lay a wreath at the community flagpole in Sturt Street and fly the Aboriginal flag at half-mast to honour and remember lives lost and trauma caused by colonisation.
National Sorry Day is our chance to reflect on how we may all play a part in the healing process for our people and nation.
As a nation it is important that we all continue to share the purpose of this day and amplify the opportunity to help heal this regrettable legacy.
As we move into National Reconciliation Week, we all have a chance to listen to and respect the ongoing history of Indigenous people both here and around our nation and open the doors for solutions and actions that bring us all closer together.
Acknowledging our history with a view to building a better future is so important, today and every day.
- City of Ballarat Mayor, Cr Daniel Moloney & Koori Engagement Action Group Co-Chair, Sarah Jane Hall