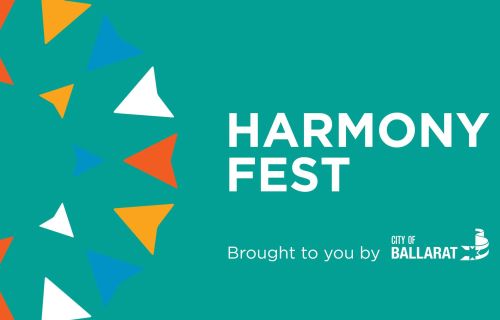 Ballarat's largest intercultural celebration
Download the 2023 Ballarat Harmony Fest Program
In March 2023, Victoria will come together for Cultural Diversity Week, and celebrate the power, influence, and stories of Victoria's rich multicultural communities.
Join us during Harmony Fest 2023 in Ballarat from 16 to 26 March, to celebrate our culturally diverse community and their contributions to society. 
 
The theme for 2023 is: 
Our Past. Our Future: celebrating and reflecting on the contributions of Victoria's multicultural communities. 
Intercultural Recognition Awards 2023
As part of celebrating the City of Ballarat's diversity advantage, we would like to recognise some individuals, organisations and businesses, who have made a valuable contribution to our Intercultural Community.
You might know of someone or an organisation, who has raised funds, have given their time or have made a contribution in some other way, who you would like to nominate so that we can recognise them at our special awards event in March.
Award Nominations are now closed.
Email interculturalservices@ballarat.vic.gov.au for more information.
Harmony by the Lake
A free community picnic, with music, dance, and activities for families and everyone at Lake Wendouree. 
Sunday, 26 March 2023, 12 midday – 3.00pm 
Opposite the Lake Wendouree Adventure Playground, in between the Ballarat Tramway Museum and the Ballarat Fish Hatchery. 
Bring your own chairs, picnic blankets and enjoy the day. 
Food trucks will be on site at own cost. 
*No alcohol please 
Harmony Day Flag Raising Ceremony
Celebrate Harmony Day at the annual Harmony Day Flag Raising Ceremony, at Queen Victoria Square (In front of the Town Hall), followed by a morning tea, 
Tuesday, 21 March 2023, 10.30am. 
All Welcome. 
#CulturalDiversityWeek 
#CDW2023 
#OurPastOurFuture 
About Harmony Fest
Since it was launched in 2010, Harmony Fest has become the City of Ballarat's vibrant celebration of diversity.
Harmony Fest wraps around Harmony Day, the United Nation's International Day for the Elimination of Racial Discrimination, which is celebrated on 21 March. The day encourages Australians to come together to reflect on and celebrate the many cultures that create our great nation.
Find Harmony Fest on Facebook.
More information: interculturalservices@ballarat.vic.gov.au