Strong value in Western Bulldogs partnership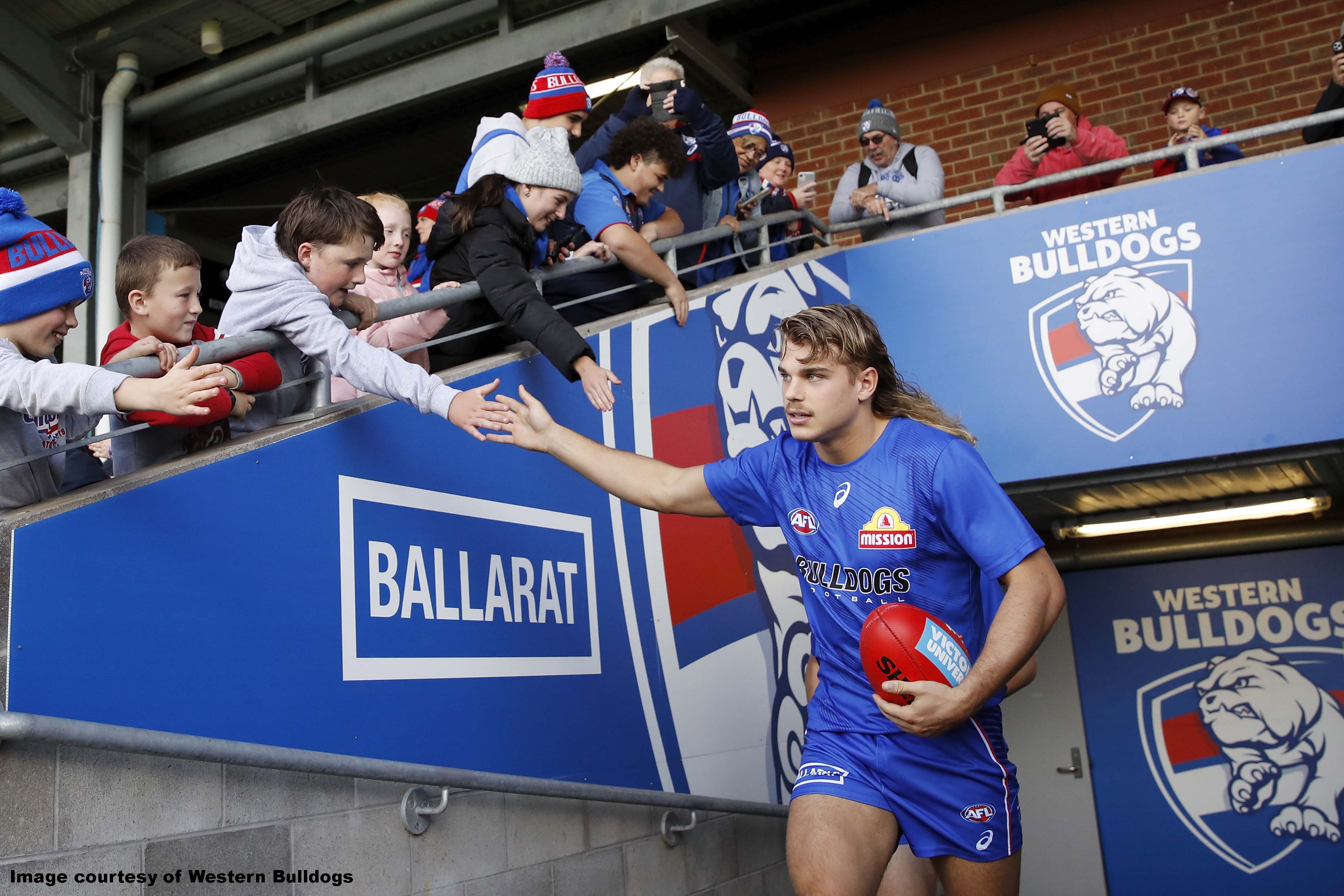 An estimated $11 million in economic benefit has been contributed by visitors attending AFL games in Ballarat since 2017.
This return on investment comes despite the past two AFL seasons being interrupted by COVID-19 restrictions, which saw no matches being played in Ballarat in 2020 and only one in 2021 under capacity restrictions.
The Western Bulldogs inaugural Ballarat home and away match in 2017 saw 10,087 in attendance at an estimated economic benefit of $2.2 million.
Two matches followed in 2018 for a cumulative attendance of 13,283 and $2.89 million return, two matches again in 2019 for 19,969 total attendance and $4.35 million, and finally one match in 2021 with an attendance of 7,340 (capacity limit) and estimated economic benefit of $1.6 million.
It was announced late last month that the City of Ballarat, in conjunction with the State Government, would extend its partnership with the Western Bulldogs through to 2024.
The new deal also includes an AFLW home and away match which will provide the opportunity for the Ballarat community to experience elite women's football.
The new partnership between the City of Ballarat and the Western Bulldogs will see two AFL games, one AFLW game, Sons & Daughters of the West Health Program, Youth Leadership Program and Bulldogs Read Program. The three-year partnership contribution from the City of Ballarat totals $1.375 million.
Mayor, Cr Daniel Moloney said while the two AFL home and away games and one AFLW game are the showpiece of the Western Bulldogs year-round commitment to the City of Ballarat, the partnership goes beyond that.
"We see this partnership as a good return on investment," Cr Moloney said.
"Not only have we seen five years of elite football played at Mars Stadium, but the Western Bulldogs have delivered community programs, school programs, community engagement and events, male and female grass roots football support and development and a constant presence at the shopfront and office in Mair Street, including local employment."
Since engagement with the Ballarat region began in 2016, the Western Bulldogs have had meaningful connections with more than 650 participants across its three core programs; Sons of the West (419 men), Daughters of the West (153 women) and Youth Leadership Program (97 young people).
Cr Moloney said the ongoing partnership would also play a strong role in the region's recovery from COVID-19.
"Broadcasting Western Bulldogs games across Australia also puts us on a national stage and provides significant visitation and tourism to Ballarat," he said.
"It is also important to acknowledge the State Government's support in this partnership and particularly the investment into stages 1 and 2 of the Mars Stadium redevelopment, which has been instrumental in attracting other major events such as Nitro Circus, A League and Super Rugby events to Ballarat."
The Western Bulldogs will host Fremantle at Mars Stadium in round 10 of the AFLW in March 2022, with AFL matches to take place in Ballarat in rounds 6 and 10 against Adelaide and Gold Coast respectively.