Public Notices - Friday 29 September 2023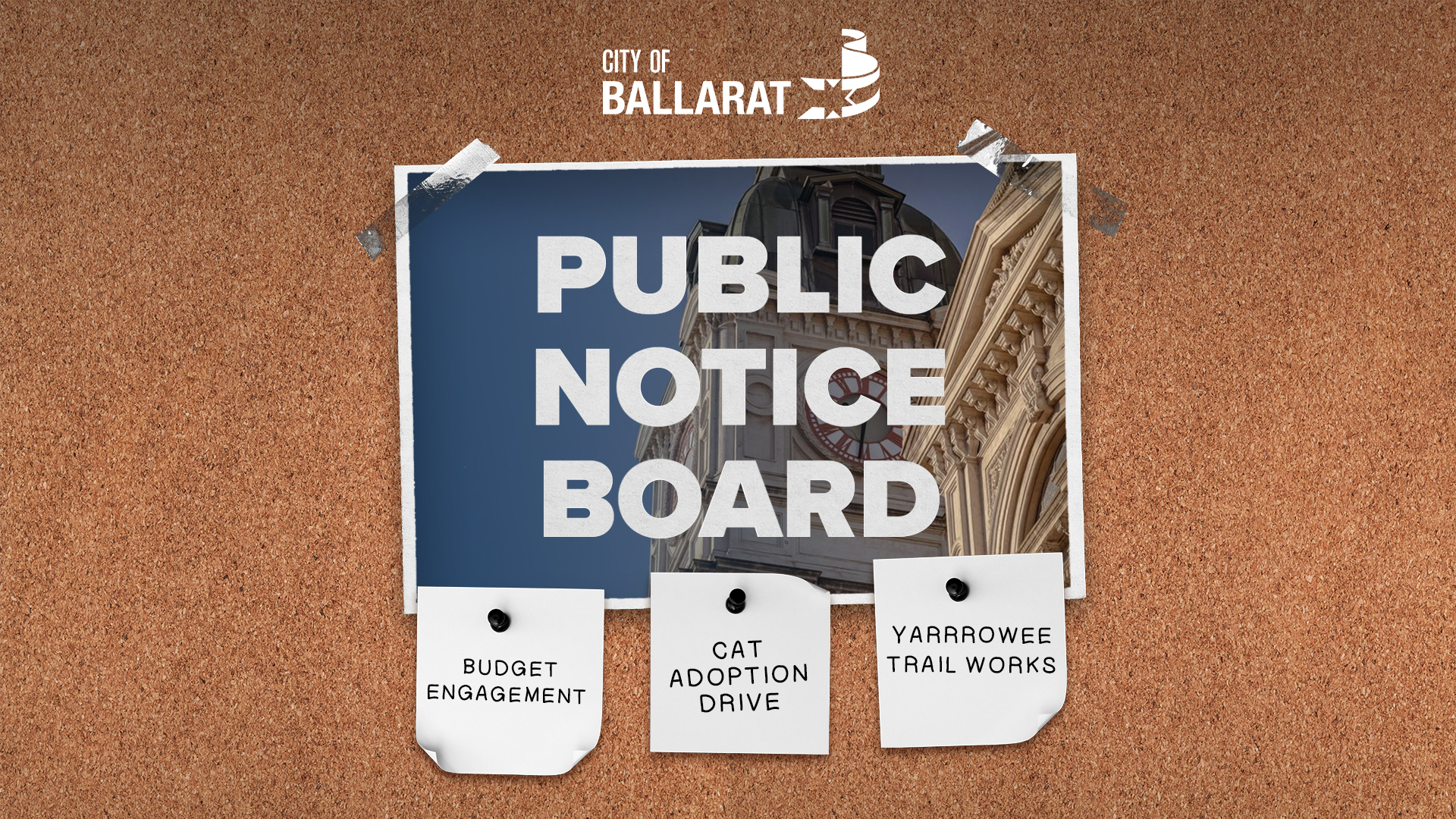 City Oval Bowls - Synthetic Green 

 

 

 

 

 

 

 

 

 

 

 

 

 

Alfredton Primary School – Netball Court Renewal 

 

 

 

 

 

 

 

 

 

 

 

 

 

Cromwell Street Road widening Hertford Street to Rubicon Street 

 

 

 

 

 

 

 

 

 

 

 

 

 

Council Chamber AV Project 

 

 

 

 

 

 

 

 

 

 

 

 

 

Ballarat Regional Animal Facility - Design Services 

 

 

 

 

 

 

 

 

 

 

 

 

 

Asphalt works Scott Parade from Havelock Street to peel Street Ballarat East 

 

 

 

 
 

 

 

 

 

 

 

 

 

 

 

 

 

 

 

 

The draft Ballarat Housing Strategy 

 

 

 

 

 

 

 

 

 

Biodiversity Strategy Engagement 

 

 

 

 

 

 

 

 

 

Fitness Equipment at Desoza Park  

 

 

 

 

 

 

 

 

 

Heritage protection for 'Lintel Grange Homestead Complex', Addington 

 

 

 

 

 

 

 

 

 

 

 

 

 
For the month of September, all desexed, microchipped, vaccinated, adult cats are available at a reduced adoption for of only $50.  
Make an appointment by calling the Ballarat Animal Shelter on 03 5334 2075.  
PLANNING SCHEME AMENDMENT C245
The City of Ballarat will receive submissions up to 30 October 2023.
Information regarding the amendment can be found at:
City of Ballarat: https://mysay.ballarat.vic.gov.au/ or by contacting Customer Service 53205 500 to arrange a time to view the amendment documentation at The Phoenix, at 25 Armstrong Street South, Ballarat.   
The Department of Transport and Planning website at www.planning.vic.gov.au/public-inspection or by contacting 1800 789 386 to arrange a time to view the amendment documentation.
 

 

 

 

 

 

Land affected by the amendment 

 

 

 

 

 

 

 

 

 

 

 

 

 

 

 

127 Edmonston Road, Addington 

 

 

 

 

Ballarat Planning Scheme Amendment C245 is on public exhibition from Thursday 28 September 2023 to Monday 30 October 2023. The amendment proposes to apply the Heritage Overlay to the Lintel Grange Homestead Complex located at 127 Edmonston Road, Addington, including the curtilage, found to be of local heritage significance.  

 

 

 

 

Please include your name and contact details in your submission.  
The City of Ballarat's budget process is changing – the process will be streamlined to provide ample opportunity for everyone to shape the budget.  
In the coming weeks, community will have an opportunity to provide feedback and input into the development of the City of Ballarat's 2024/25 Budget. 
The 2024/25 budget engagement period will begin on October 9 and will close on October 27.   
The community's input to the City of Ballarat's budget reflects an engaged and empowered community committed to achieving a better Ballarat. 
GRAND FINAL EVE PUBLIC HOLIDAY
 
Our offices will be closed Friday 29 September 2023 for the Grand Final Eve Public Holiday.
If you require emergency support from on this day, please call our after hours line on 5320 5500.
The Visitor Information Centre at Town Hall will be open from 10am - 4pm.
Bin collection will NOT change during this time.
 
Users of the Yarrowee Trail, please be advised that a section from Bala Street to Whitehorse Road/Bridge Street, Sebastopol will be closed on October 2-3 for works to repair the pathway.
Please avoid the area during this time.