Blooming good fun for 70th Begonia Festival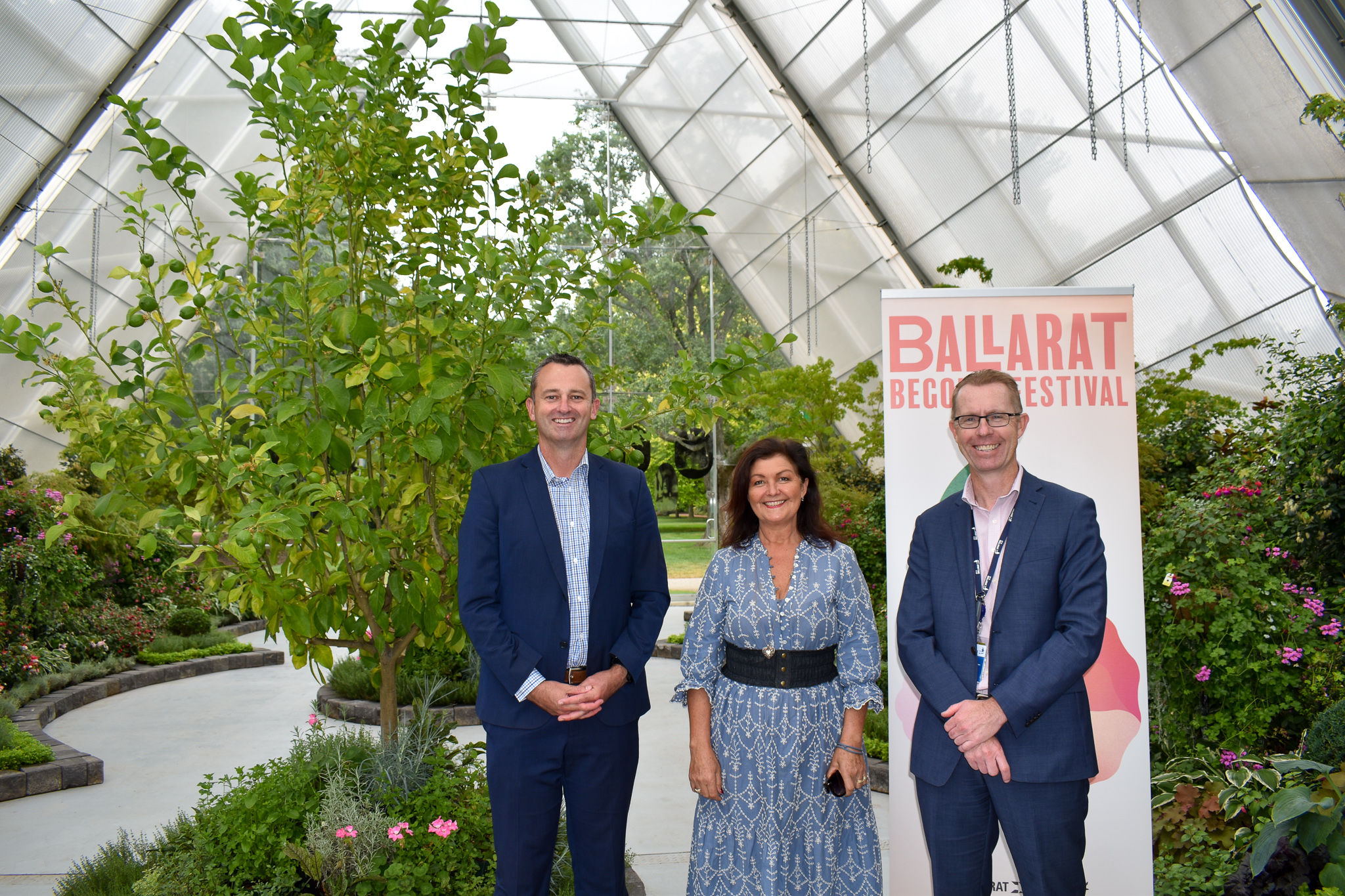 The Ballarat Begonia Festival will be in full bloom for its 70th birthday, with an official launch in the Robert Clark Conservatory at 11.30am on Friday 11 February. 
Inspired by Scotland's Edinburgh Festival, the Begonia Festival was first held in 1953 and has taken place every year since in a range of different formats – even during COVID-19 restrictions. 
This year's 10-day free event from 11-20 March will showcase not only Ballarat's signature rare begonia collection but also its creative community with an exciting new program being held in both the Ballarat Botanical Gardens and the CBD. The Robert Clark Conservatory will open it's doors from 10am, Saturday 12 March. 
The Robert Clark Conservatory will once again host a spectacular floral display of 700 begonias, while colourful installations, farmers' markets, live music, family activities, roving performers and much more will keep everyone entertained. 
The giant swan, the BEGONIA letters and the floral clock will also make a return while the popular PowerFM Begonia Parade will feature on the Monday of the long weekend to round out the first weekend of the festival in colourful style. 
The main stage will make a return to this year's festival, with guest speakers Australian horticulturalist and landscape designer Jamie Durie and former MasterChef contestant and host of TV show Freshly Picked, Simon Toohey. 
The 2022 program welcomes new events including Food Truck Friday at Alfred Deakin Place, Weed Foraging walks at Sovereign Hill, Begonia Classic, a Getting started in Beekeeping Workshop and much more.  
The enduring appeal of the begonia extends beyond city activations and floral displays with a variety of one-off begonia-inspired creations crafted by Ballarat locals to celebrate the 70th year. Begonia products include Begonia Gin by local favourites Kilderkin, and Begonia Drops by Sovereign Hill. 
Also new to 2022, Ballarat laneways will be transformed into a Begonia Byway, celebrating the festival's unique history. Three laneways will come alive with begonia and nature-inspired creative installations co-created by artists Hattie Molloy and Esther Olsson.  
City of Ballarat Mayor, Cr Daniel Moloney said he was thrilled the Begonia Festival could mark its milestone with a 10-day celebration and thanked the 2022 event sponsors, Central Highlands Water (community partner), and Power FM and Integra (supporting partners) for their support in making the event happen.  
"The Ballarat Begonia Festival is a unique and authentic part of the Ballarat story," Cr Moloney said. 
"The festival plays a significant role in attracting visitors to Ballarat and promoting our city as a vibrant, active, and nature-based destination, as well as strengthening community pride.  
"The estimated economic impact for the Ballarat Begonia Festival is $3.445 million based on data from last year's festival and, up until 2020, it attracted more than 60,000 visitors to Ballarat every March long weekend. 
"The City of Ballarat is excited to deliver this event for our community, immersing locals in a uniquely Ballarat experience. 
"We are delighted that Central Highlands Water is again supporting the event as our Community Partner, extending our partnership over 25 years." 
Central Highlands Water Board Chair Angeleen Jenkins said Central Highlands Water was proud to partner with the City of Ballarat as the major community partner of the 2022 Ballarat Begonia Festival.  
"Our partnership spans over 25 years and we are thrilled to once again be involved for the festival's 70th anniversary," Ms Jenkins said. 
"The festival is an amazing annual calendar event, showcasing the best of Ballarat. 
"This year, we share our Smart, Safe and Sustainable approach to delivering quality water to Ballarat and our wider community. At the festival, we are seeking to raise awareness of the importance of caring for water and Country and we thank the Wadawurrung Traditional Owners for their ongoing guidance, highlighting areas where we can continually improve." 
History of Ballarat Begonia Festival   
 1953: The first Begonia Festival opens   
1954: Her Majesty, Queen Elizabeth II visits the festival   
1953-1993: Ballarat Begonia Festival hosts 'Queen of Begonias'. A judging panel would select one woman to become the annual Queen of Begonias. Her role was to promote the festival and appear in the parade.   
1960: The 'new' begonia glasshouse in the Botanical Gardens was opened and floral clock was installed. It was the largest electrically motorised floral clock in the world at the time.  
1964: The floral carpet was the first large-scale, live-flower floral carpet, measuring 30 feet by 21 feet and featuring over 700,000 specially grown blooms.  
1972: Festival introduces Princesses of Begonias (runners up)   
1973: Annual parade moves to Lake Wendouree   
1993: The festival crowns its last Queen of Begonias   
1995: The newly opened Robert Clark Conservatory became a festival focal point   
1999: The festival celebrated 100 years of begonias being present in Ballarat.                                                    
2012: 60th year celebrations.  
2015:  The world's largest outdoor LEGO flower, made by The Brickman, Ryan McNaught, was launched at the festival.                                                     
2022: 70th year celebrations