Ballarat's Biggest Playgroup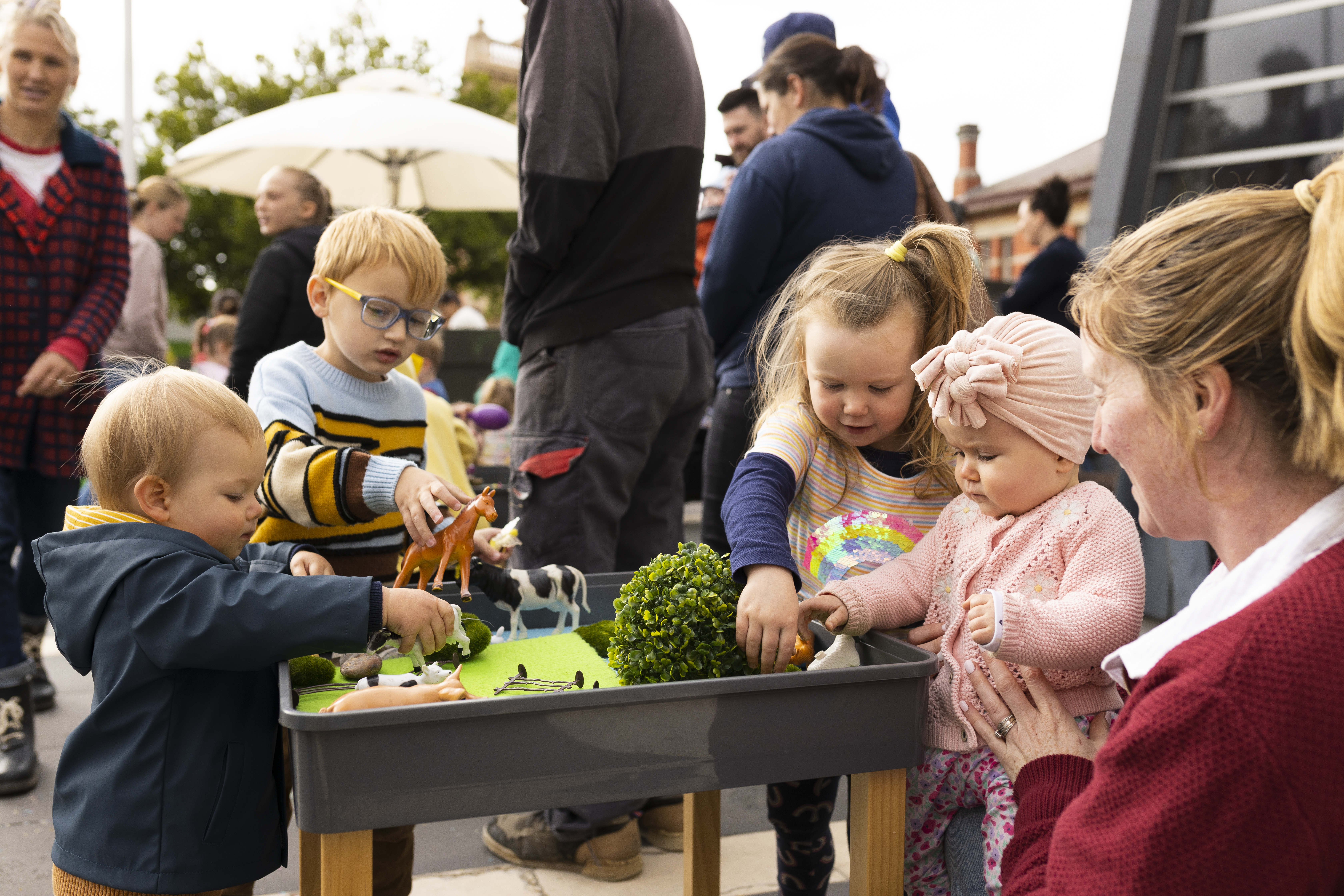 Ballarat's Biggest Playgroup returned for a fun-filled morning of performance and play to coincide with National Playgroup Week. 
Almost 700 people joined in marking the 15th year of celebrating children and families.  
The Biggest Playgroup was a collaboration between the City of Ballarat's Family, Youth and Children's Services team, the Art Gallery of Ballarat, Ballarat Libraries, and Ballarat Aquatic and Leisure Centre.  
The event was an opportunity to collaborate, celebrate and support children and families engaging with the community.  
The free event was held at McCain Hall and Annex at the Art Gallery of Ballarat, with activities also being held at Alfred Deakin Place.  
The highlight for many families was Wild City, by Kathy Holowko, an imagined future world that allowed everyone to explore ideas of how habitat and design can come together to welcome wild animals as citizens.  
The interactive workshop allowed children and adults to envision a city where humans and wild animals can live together.  
Children also enjoyed circus play and a roving bubble performer by Hoopsparx.  
There were opportunities for sensory play, while baby play was facilitated by the Supported Playgroups team, and balance play was operated by the Ballarat Aquatic and Leisure Centre team. 
Children were able to make their own flowers and other arts and crafts with assistance from the Art Gallery of Ballarat, with science experiments and sphero robots led by the Ballarat Library team.  
Family, Youth and Children's Services staff were in attendance to provide information about services such as Parent Place and other early years services in Ballarat.  
City of Ballarat Deputy Mayor, Cr Amy Johnson said one of the best outcomes of playgroups are the important role in promoting the value of imagination and development for young children. 
"Ballarat's Biggest Playgroup was a great opportunity to celebrate the wonderful work undertaken all over Australia by dedicated parent and carer volunteers who keep playgroups running," she said.  
"Our Ballarat Art Gallery is a place for everyone, and we want all community, including children to enjoy it." 
The City of Ballarat Supported Playgroup program offers facilitated playgroup sessions across Ballarat each week during school term, for eligible families. Please contact 5320 5720 or ballaratplaygroups@ballarat.vic.gov.au for more information.