Ballarat to turn rainbow for Western Bulldogs and AFLW Pride Round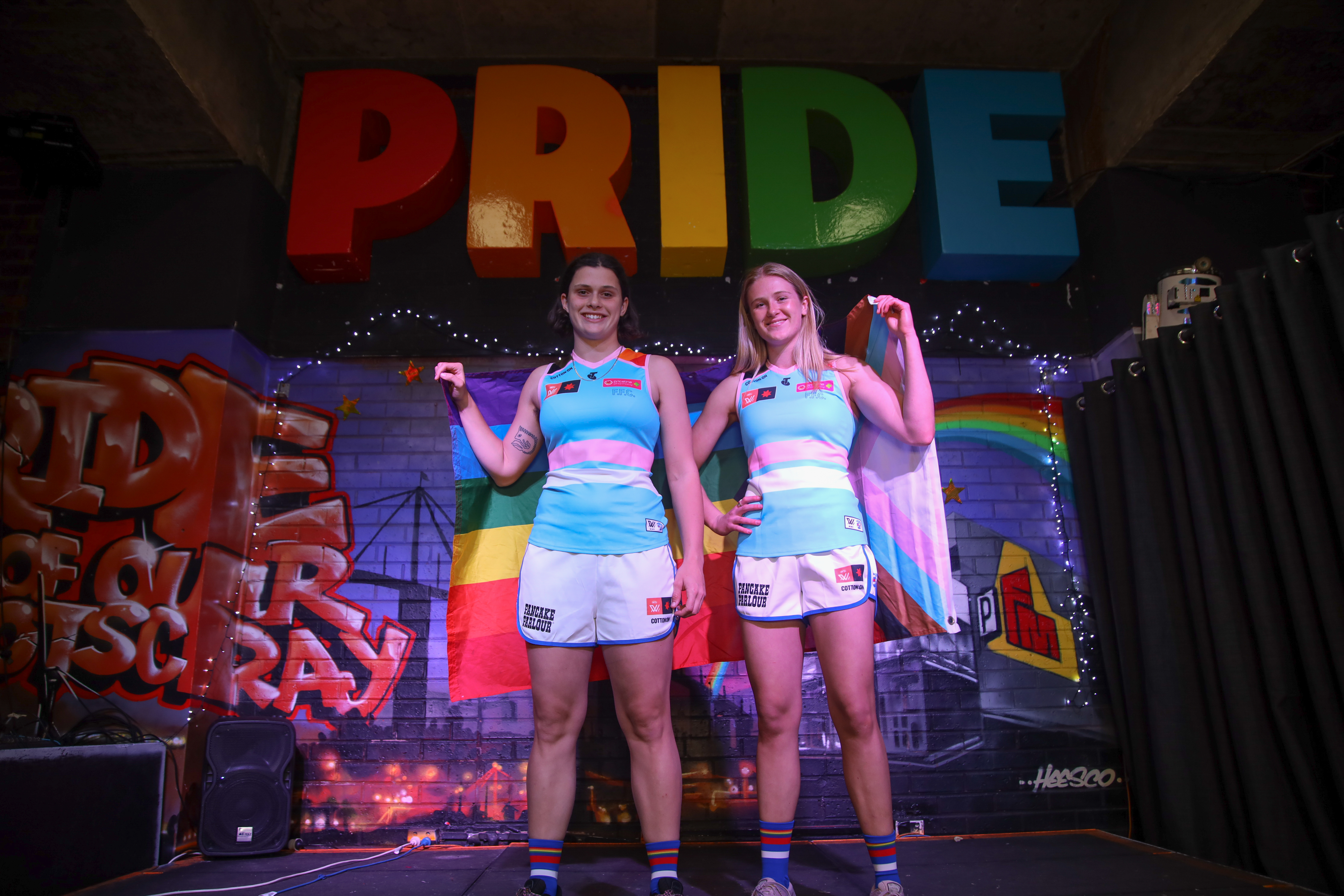 Ballarat will be awash with pride this weekend when the Western Bulldogs' AFLW side comes to town. 
The round 8 match at Mars Stadium between Western Bulldogs and St Kilda will take on added significance, aligning with the AFLW's Pride Round on Sunday 16 October.
It will be the first time an AFLW Pride Round match has been held in Ballarat and there will be a series of events to mark the occasion, including a Pride March, supporters' function and curtain-raiser match. 
City of Ballarat Mayor, Cr Daniel Moloney has been a strong advocate for the LGBTIQA+ community in Ballarat and says being able to host the Pride Round event is a fantastic opportunity for the city. 
"Visibility is really important through our partnership with the Western Bulldogs, and we're grateful they've brought the Pride Round to Ballarat for the first time," Cr Moloney said. 
"A Pride March to Mars Stadium will be a highlight, and hopefully it's an event we can make a regular fixture. 
"We still have a long way to go of course, but greater visibility of our diverse people in all areas, especially sport, is important to break down stereotypes, and improve participation and wellbeing." 
On Saturday night a free Pride Supporter Group Function will be held from 6.30pm at Aunty Jack's at 315-317 Mair Street. 
Everybody in the Ballarat community is encouraged to attend the function, wear their Western Bulldogs and/or pride colours and celebrate with the LGBTIQA+ community.  
There is no cost to attend the function, but bookings are to made via email at info@auntyjacks.com.au with "Bulldogs Pride Function" within the subject heading. 
On Sunday, there will be a spectacular showing for the Bulldogs Pride March to Mars. 
The march will begin at Selkirk Stadium, departing at 11.40am and making its way along Norman Street and up Creswick Road to Mars Stadium. 
The walk is about one-kilometre long and everybody is welcome to participate. 
The Bulldogs will also wear a specially-designed guernsey, with match-worn guernseys to be auctioned off post-game. 
A curtain-raiser match between Kyneton Football Netball Club and Mt Alexander Falcons women's teams will also be held at the venue. 
Kyneton FNC were the AFL Victoria Inclusion Award winners for 2021, while Mt Alexander Falcons is the first AFL community club in Victoria to provide a stand-alone club for women and gender diverse people. 
The club has also provided tickets to 43 primary schools in the Ballarat region, as well as more than 180 students, families and teachers from Loreto College following the recent bus crash involving people connected with the college. 
Tickets for Sunday's AFLW Pride Round game between the Bulldogs and Saints at MARS Stadium are on sale now via Ticketmaster. 
Further quotes attributable to Ballarat Mayor, Cr Daniel Moloney. 
"Ballarat is really establishing itself as a city that is being recognised across the state as an inclusive and welcoming place.  
"People from a diverse range of cultural and religious backgrounds now call Ballarat home, and it's really heartening that many people who move here from places like Melbourne are telling us they'd heard that the lived experience of people from our LGBTIQA+ communities had started to dramatically improve in recent years, and that was a key factor in their decision to relocate. 
"It might come as a surprise to some, but we're actually leading all but a few of Victoria's 79 councils when it comes to celebrating our diverse LGBTIQA+ people.
"We were among the first few to establish an LBGTIQA+ Advisory Committee, we now run a growing range of inclusive events, and in a couple of weeks will see the final draft of our LGBTIQA+ Inclusion Plan come to Council for adoption.  
"Only a few of Melbourne's more progressive councils are slightly further on the journey and it's being noticed across the state, with Ballarat attracting new residents who want to be part of our welcoming city.  
"As a proud part of Ballarat's LGBTIQA+ community myself, I've really valued the welcoming and accepting attitude of nearly everyone I've encountered.  
"As I stand down from the role of Mayor over the next few weeks, I'll be forever proud of the massive leap our Council and city has made in becoming more inclusive."