Ballarat GiG - Get into Games
City of Ballarat, with the support of Federation University Australia, Ballarat Tech School, Highlands LLEN and other sponsors and supporters, run an annual electronic-games expo for senior secondary students from Ballarat and surrounding regions. Get into Games with Ballarat GIG.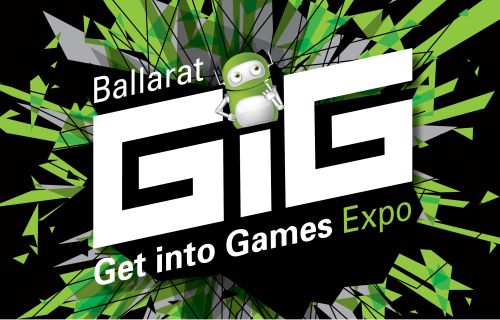 Ballarat GiG 2023
The Get into Game Expo was held on 18-19 May 2023 at the Ballarat Tech School (for secondary students by invitation only).
About Ballarat GiG
The Get into Games Expo shows possible careers within the gaming industry; it also shows how these skills are transferable to other industries.
As well as showing students what future study and work paths, it also highlights potential business opportunities within the Ballarat region to Australian game developers.
Plus everyone is there to have fun!
Ballarat GiG has a main stage where speakers from the gaming industry and Federation University Australia present to students. There are areas set up for gaming activity during breaks from the presentations – including virtual reality, the latest PC games and retro games. Sponsors also have booths to give information about career paths and study options for students.
Who is Ballarat GiG for?
Ballarat GiG is for year 9-11 students wanting to learn more about how to get into the games industry. It also has information for teachers on potential careers pathways.
Get into Games is an invitation-only event, with invitations and attendance coordinated by Highlands LLEN.
Ballarat GiG 2022
The Get into Games Expo was held on 6 and 7 October 2022 at the Ballarat Tech School (for secondary school students by invitation only) as part of Melbourne International Games Week. 
Please enjoy the following highlights from this event 
Watch the recording of the 2021 GiG Panel
For the first time, Ballarat's 2021 Get into Games expo was held as part of the 2021 Melbourne International Games Week on 5 October 2021.
You can watch the recording of the live GiG panel below:
GiG's purpose
The event highlights potential career options within the gaming industry, demonstrates learning pathways available locally, and showcases the games industry as a legitimate and viable career option - with transferrable skills for the future. It also shows the industry Ballarat's capacity to foster these skills in our young people.
Who's running it?
The City of Ballarat coordinates the event, with support from Federation University Australia, the Highlands LLEN and industry partners such as Game Developers Association of Australia and industry partners.
The City of Ballarat is committed to encouraging a pipeline of IT and creative industry skills that will support Ballarat and the region's established industry base and build its reputation as a premier high tech and knowledge based regional economy.