City of Ballarat facilities - changes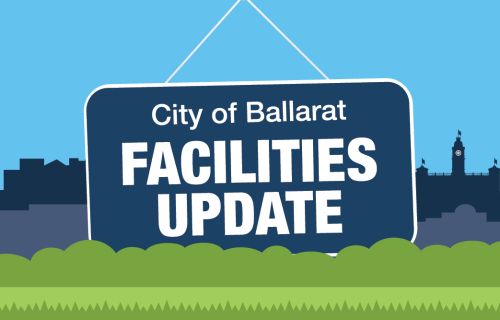 City of Ballarat Customer Service (The Phoenix)
The Phoenix is providing limited face-to-face services in line with DHHS guidelines. 
The new opening time of 8.30am at the Phoenix will enable a pre-start disinfect of the Customer Service area.
The City of Ballarat also offers a range of online services, such as online payments, online forms and webchat, which is now being trialled.

Ballarat Information Centre
BALC and outdoor pools
For all the latest BALC updates and more, including the reopening of BALC and booking the Eureka Pool for lap swimming, head to the BALC website. 
Parent Place
Parent Place has closed temporarily but service delivery will continue online and via MS Teams.
City of Ballarat playgrounds and outdoor pools
At this stage, the scheduled date to reopen Ballarat's outdoor pools is November, apart from the Eureka Pool which has already reopened for lap swimmers. 
Due to the colder climate, Ballarat's outdoor pool season always commences later in the year than other parts of the state. 
Off-leash and fenced dog parks
The Wendouree, Sebastopol and Pennyweight Park off-leash dog parks are all open.
Community sporting activity on City of Ballarat land
Outdoor contact and non-contact sport for under 18s and outdoor non-contact sport for adults has resumed.
Facilities - temporarily closed
Ballarat Mining Exchange
Robert Clark Horticultural Centre and Conservatory 
Facilities - modified
City of Ballarat Customer Service Centres (staff taking calls five days a week between 8.15am-5pm, please call 5320 5500)

Ballarat Animal Shelter (restricted operations)

Gillies Street Transfer Station (this facility remains open on weekdays (8am – 4pm) and weekends (10am – 4pm), but is currently only accepting vouchers from residents and card-based payment.)

Maternal Child Health services (applicable to all locations) – It is a priority to preserve essential MCH services for families with very young babies, and for families who require additional support. From Monday August 3, the City of Ballarat MCH program will prioritise children from 0 to 18 months and temporarily suspend services for older children. Full list of modifications and for further information here.

Immunisation services –  The City of Ballarat 's childhood immunisation clinic has been relocated  from Sebastopol Library to Bonshaw Early Learning Centre. Appointment-based. Please do not attend if unwell. Further information here. 

Childcare programs – Wendouree Children's Centre, Girrabanya Children's Centre and Family Day Care are still operating. The City of Ballarat is prioritising childcare for essential service workers. Centre-based childcare is available for children up to school age, with family day care (offering low educator to child ratios in a home-based environment) available for children aged up to 12. For further information contact childcare@ballarat.vic.gov.au.

This information is correct as of 5pm on Tuesday 27 October. Further changes will be advised.