City of Ballarat facilities - changes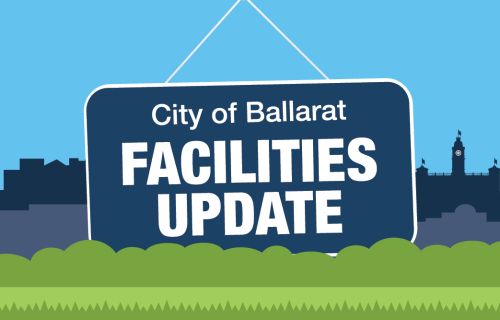 Due to stage 3 restrictions being reimposed from 11.59pm on Wednesday 5 August, several City of Ballarat facilities will have to temporarily close again.
Parent Place
Parent Place has closed temporarily but service delivery will continue online and via MS Teams.
City of Ballarat playgrounds and skateparks
Public playgrounds, outdoor gyms and skate parks will temporarily close from 11.59pm on Wednesday 5 August.
Off-leash and fenced dog parks
The Wendouree, Sebastopol and Pennyweight Park off-leash dog parks will temporarily close from 11.59pm on Wednesday 5 August.
However, walking dogs off leash can still occur at Victoria Park, Pioneer Park and Birdwood Park, Buninyong, so long as social distancing measures are observed and people are not gathering in groups of more than two.
Lucas Community Hub
The Lucas Community Hub is being used as UFS COVID-19 testing facility until further notice.  Visits by appointment only – 4311 1571 
Community sporting activity on City of Ballarat land
Sporting grounds will remain open for exercise purposes but social distancing measures must be strictly observed and groups of no more than two people are allowed.
Facilities - temporarily closed
Ballarat Mining Exchange
Eureka Centre - Home of the Eureka Flag (102 Stawell St South, Ballarat)  The closure of the Eureka Centre also involved the closure of the Ballarat Research Hub at Eureka (BRHAE). To support the community, a secondary Meals on Wheels service was established at the Eureka Centre during this period of public closure and the Eureka Centre will not re-open to the public until Meals on Wheels vacate the building. Australiana research librarian Simon Jacks is still available to assist with basic family or local history research enquiries at simonjacks@ballarat.vic.gov.au. Any further questions contact EurekaInfo@ballarat.vic.gov.au

Robert Clark Horticultural Centre and Conservatory 
Facilities - modified
City of Ballarat Customer Service Centres (staff taking calls five days a week between 8.15am-5pm, please call 5320 5500)

Ballarat Information Centre staff are available to answer visitor inquiries via telephone and email. The temporary centre in Lydiard Street will also temporarily close.

Ballarat Animal Shelter (restricted operations)

Gillies Street Transfer Station (this facility remains open on weekdays (8am – 4pm) and weekends (10am – 4pm), but is currently only accepting vouchers from residents and card-based payment.)

Maternal Child Health services (applicable to all locations) – It is a priority to preserve essential MCH services for families with very young babies, and for families who require additional support. From Monday August 3, the City of Ballarat MCH program will prioritise children from 0 to 18 months and temporarily suspend services for older children. Full list of modifications and for further information here.

Immunisation services –  The City of Ballarat 's childhood immunisation clinic has been relocated  from Sebastopol Library to Bonshaw Early Learning Centre. Appointment-based. Please do not attend if unwell. Further information here. 

Childcare programs – Wendouree Children's Centre, Girrabanya Children's Centre and Family Day Care are still operating. The City of Ballarat is prioritising childcare for essential service workers. Centre-based childcare is available for children up to school age, with family day care (offering low educator to child ratios in a home-based environment) available for children aged up to 12. For further information contact childcare@ballarat.vic.gov.au.

This information is correct as of 5pm on Tuesday 4 August. Further changes will be advised.