Don't dump your DIY junk
Don't put DIY project waste in your yellow recycling bin. Contamination in our recycling bins is usually around 16% but is now at 20% to 25%, with a lot of this including DIY project waste.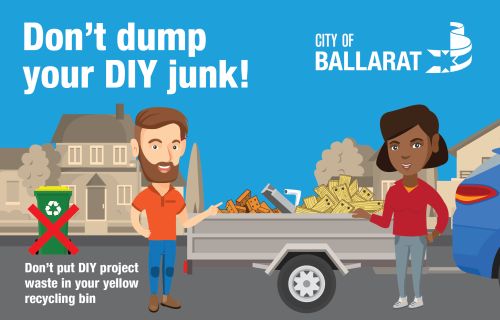 What happens if you put your DIY waste in your recycling bin?
What happens when DIY project waste such as timber, metal, porcelain, soft plastics, and textiles goes into a recycling bin?
Step 1: Your yellow bin is collected by the City of Ballarat.
Step 2: Recyclables are delivered to Australian Paper Recovery (APR).
Step 3: The first step once your recycling has arrived at APR is pre-screening to remove some of the contaminants.
Step 4: Manual and mechanical/automated systems then sort your recycling into piles, and more contaminates are removed through this process.
Step 5: DIY waste, and non-recyclable materials are separated and must be taken to landfill. 
What can you do with your DIY waste?
What does a good recycling bin look like?
plastic bottles and containers from your kitchen, bathroom and laundry
aluminium and tin cans and trays 
clean paper and cardboard
What does a bad recycling bin look like?
Tips for reducing contamination
Stop putting timber, metal pipe, garden hoses, food waste, and soft plastics in your yellow-lidded recycling bin.
Continue to take your glass bottles and jars to a pass on glass drop off facility located around Ballarat. 
Continue to place clean, plastic containers from your kitchen, laundry and bathroom. These are the only plastics we can accept.
Continue to place clean paper, cardboard, and cans in the yellow recycling bin.
Rinse plastic bottles, containers, and cans before putting them in your recycling bin.
Remember to keep your recyclables loose and do not place them inside plastic bags.
Recycling FAQs
Why can't I put timber in my recycle bin? 
Timber is not recyclable through our recycling system. You can take timber to the Ballarat Transfer Station for disposal.
When timber is put in the household recycling bin, it contaminates the load and creates additional sorting and processing of that load. It is important we keep improving the quality of the recyclables we send to our local manufacturer so we can get the most out of the recyclable products. 
Why can't I put food waste in my recycle bin? 
Food waste is not recyclable and is unable to be made into other products in the way a plastic milk bottle can be remade. 
Food waste is a great resource for your garden if you can compost it in a backyard compost bin and use it as mulch in your garden. The City of Ballarat currently offers 40% compost products at Compost Revolution.
Otherwise, food waste needs to be placed in your red lidded garbage bin. 
Will the collection day for my recycling bin stay the same?
Yes. There will not be any change to the day your recycling bin is collected. 
The time of your collection may change slightly as the result of route changes, so It's important to put your bin out the night before. 
Does contamination cost me more?
Your waste service in your annual rates charges includes your waste and recycling collection services. We include costs for disposing of contamination in the recycling service charge. 
There is a cost for contamination because if there is contamination in the load, we need to take that to landfill. All recycling loads are transported, sorted, and processed. These processes, plus needing to take contaminated loads to landfill, cost Council and ratepayers money. So, the more we can reduce the contamination, the less it costs to transport and process the unwanted material.