Food safety
All food premises (as defined by the Food Act 1984) that sell food in Victoria must be registered and need to ensure that the food they sell is safe.    Businesses located within the City of Ballarat and mobile food businesses that are stored/garaged within the City of Ballarat must register with our Environmental Health team and comply with the Food Act 1894 before commencing trade.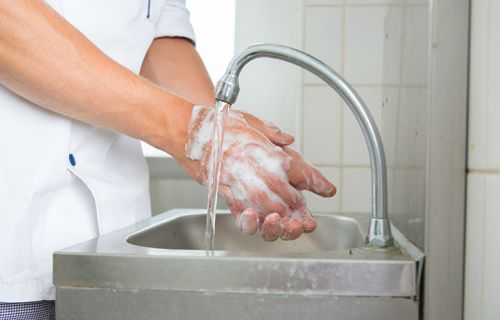 How can the Environmental Health team help you?
Our Environmental Health officers help businesses get registered under the Food Act 1984, monitor the registered businesses for compliance, and provide advice on safe food handling to all areas of our community including businesses, charities, community, sporting and church groups, as well as individuals.
 
Under the Act, we have a legal duty to register and inspect food premises. Our duties include:
assessing risk to food safety at all registered food businesses
testing food samples to ensure they are fit for human consumption and comply with the Food Standards Code
investigating complaints
For more information or advice about your food business, please contact the Environmental Health team on 5320 5702 or environmentalhealth@ballarat.vic.gov.au.
Apply to register a food business
To register your food business you need to:
pay the appropriate fee (an invoice will be emailed to you after your application is submitted)
An officer will arrange to inspect your premises and once you have received your Certificate of Registration, your business can start trading. 
Please note that permits or exemptions may be needed from other authorities before applying for registration under the Food Act 1984. These may include, but are not limited to:
Fitting out a food premises
When planning to open a new food business or making alterations to an existing business, you must make sure the premises meets the conditions of the Food Act 1984, Food Standards Code and the Australian Standards. 
Our Environmental Health officers can review floor plans and give advice and help for the fit out of a food premises. 
Our Food Business Information Kit is designed to help you make any changes and should be read together with the Food Standards Code and Australian Standards.
Food business classes
There are four classes for registration of a food business. A business is classed according to the degree of risk associated with its food handling activities. 
You need to understand which class your business falls into so you know what requirements you will need to meet.
Food safety programs and food safety supervisors
Food safety program
In Victoria, all class 1 and 2 food premises need a food safety program.
A food safety program is a written plan that shows what a business does to ensure that the food it sells is safe for people to eat. This is necessary to maintain safe food handling practices and protect public health.
Class 1 businesses usually use a tailored, independent food safety program that considers all the food handling activities at the premises. 
Most Class 2 businesses use a registered template; however some may need to use an independent, audited program if their activities are not covered by a template. Most businesses choose to use the department-developed food safety program template for class 2 retail and food service businesses.
Note: If a food business uses an independent food safety program, the proprietor must arrange for audits to be conducted by an approved auditor. 
Food safety supervisor
A food safety supervisor's role in a business is to recognise, prevent and lessen hazards linked with the handling of food.
All Class 1 and Class 2 food businesses must have a food safety supervisor who has completed training with a registered training organisation. Note that charities or not-for-profit groups running class 2 activities are not legally required to have a food safety supervisor if:
those handling the food are mostly volunteers, and
the food activity takes place at the site for a maximum of two consecutive days at any one time.
For further information on course codes visit the Department of Health's website. 
 
Food act certificate of registration
A copy of your certificate of registration will be given to you once your registration fee has been paid, a new business inspection has been completed and the premises is deemed to be compliant with the standards.
Businesses renewing their registration will receive their certificate once their:
annual inspection has been conducted; and
registration renewal paperwork has been returned; and 
payment of the renewal fee has been received by the City of Ballarat.
If you need a copy of your current certificate of registration you may request one by emailing environmentalhealth@ballarat.vic.gov.au.
Temporary and mobile food vendors and events
In Victoria, all food premises must be registered with their local council before selling food. This includes temporary (e.g. market stalls) and mobile food premises such as a food vans.
Mobile food premises need to be registered at the address where they are garaged overnight.
How to register your temporary or mobile food premises
Once you have submitted your Application to Register with City of Ballarat, business operators or community groups can apply to register their temporary or mobile food premises via Streatrader. Registration on Streatrader allows you to trade anywhere in Victoria. 
Once you are registered and have a current approved certificate, you will need to notify the local council where you intend to trade, for example at a local event or market. To do this, go to your Streatrader account and submit a Statement of Trade (SOT), which will ask when and where you will be trading. Your Statement of Trade is then sent to the council to notify them of your activities in the area.  
Please note: If you do not have an approved SOT at the time of your event, you may be issued with a penalty infringement notice and/or not permitted to attend the event.
Managing food allergens in your business
What is a food allergy?
A food allergy is when a food protein leads to an immune response. An allergic reaction may include swelling, hives, vomiting, abdominal pain or in some cases may lead to life threatening reactions known as anaphylaxis.
What is a food intolerance?
A food intolerance is when a particular food, chemical or component creates an adverse reaction, but is not related to an immune response. Reactions may include bloating, abdominal pain, diarrhoea, and vomiting. These responses are not life threatening but can be debilitating for sufferers.
Your obligations
The Australian and New Zealand Food Standards Code states that food businesses must ensure that certain allergens are clearly listed on the labels of food for sale. In the case of unpackaged foods (such as meals sold from a restaurant/café) the information must be provided on request. These are:
cereals containing gluten and their products – including, wheat, rye, barley, oats and spelt, and their hybrid strains
crustacea and their products
egg and egg products
fish and fish products
milk and milk products
peanuts and peanut products
tree nuts and tree nut products (does not include coconut)
sesame seeds and sesame seed products
soybean and soybean products
added sulphites in concentrations of 10 mg/kg or more
lupin
Training and further information
Food complaint
If you believe that you have:
purchased food which is not safe to eat; or
become ill from eating food which you have purchased from a food business; or
seen unsafe food handling practices
you can register a food complaint with us.
It is strongly recommended for all allegations of food poisoning that you first seek medical advice from your GP and provide them with a stool sample as this will help with finding the source of your illness.
Dish it Up food safety newsletter
Page topics