Working with us
Our employees make a real difference to people's lives.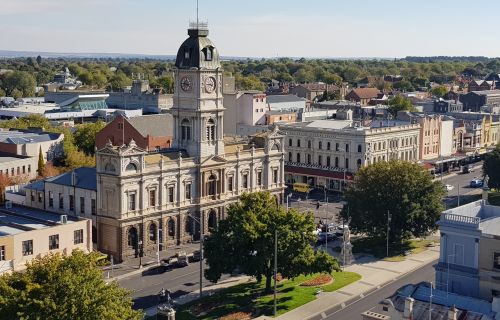 When you join the City of Ballarat you will discover the Ballarat Way of Working where we focus on our work being connected and integrated; where we learn and perform; and communicate and celebrate our successes whilst being strategic and sustaining in all that we do.
So what do we offer you?
· A supportive environment where we help you bring out your best
· Competitive salaries
· Flexible work arrangements and leave entitlements that help you balance your work and non-work lives
· Learning and development support relevant to your role and aspirations, and opportunities to work on a variety of projects and undertake secondments
· Access to health and wellbeing initiatives including annual flu vaccinations; a comprehensive health and wellbeing calendar of events
· Discounts to services including the Ballarat Aquatic and Lifestyle Centre and Art Gallery of Ballarat
· Access to a confidential Employee Assistance Program 
· An active Social Club

Employment conditions
City of Ballarat Enterprise Agreement – Our Enterprise Agreement details the employment conditions for all staff including leave entitlements, hours of work, salary increases and overtime amongst other matters. 
Pre-employment checks – Pre-employment police record checks and medicals are required for all positions. Working with Children checks are required for identified positions.
Probation period – A probation period applies to all new hires which will be explained to you as part of your offer of employment.
Employee Code of Conduct – Our Employee Code of Conduct fosters an environment of good governance, and provides professional and personal guidelines for all employees, Council representatives, volunteers and contractors.
Occupational Health and Safety – We are committed to providing a safe and healthy work environment for employees, contractors, customers and visitors.
Equal opportunity – Employees must maintain a discrimination and harassment free workplace which provides equity of access to career progression, training and other activities as appropriate.
Child safety – We pride ourselves on being a child safe organisation. We recognise our legal and moral responsibilities to keep children and young people safe from harm, promote their health and well-being, and support their best interests. We have policies, procedures and training in place that support all our employees and volunteers to achieve these commitments.
Human Rights – Employees will act in line with the Charter of Human Rights and Responsibilities Act 2006 in developing and implementing our guidelines, policies, local laws, procedures, decisions and services, and will ensure compatibility with the Charter in promoting and using the human rights principles to improve customer service.
Flexible work arrangements – We offer flexible working arrangements which include part-time, job-share, 19-day month, nine-day fortnight and compressed working week arrangements as well as annual leave and purchased annual leave arrangements.
The purchased leave (48/52) model of employment allows for an employee to purchase up to an extra four weeks annual leave per year. The employee is paid for 52 weeks per year at the fractional rate of 48/52 or 49/52, 50/52 or 51/52 of their annual salary.
Further information on employment conditions is available from our Enterprise Agreement.