Eastwood Community Hub
We are redeveloping Eastwood Leisure Complex, located at Eastwood Street Ballarat Central into a new community hub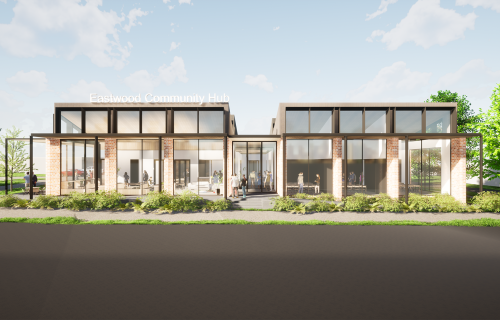 What is the Eastwood Community Hub project?
The project will see existing Eastwood buildings – other than the basketball stadium – demolished and replaced with a contemporary, accessible facility featuring flexible meeting spaces and improved participation opportunities for women and girls through access to female friendly facilities.  
The multipurpose hub will accommodate up to 200 people at any time and include a medium sized conference and community events space, 10 meeting rooms, two multipurpose activity rooms and access to a kitchen.  
As well as current user groups, the facility will host community celebrations, cultural events and meetings.
Eastwood is one of Ballarat's best used community facilities and has been a meeting place for Ballarat and the region for eight decades.  
About 100 groups use Eastwood each year and more than 1,000 participants visit each week.
Since it was first built in the 1940s, Eastwood has had several upgrades and expansions, and has been used for different community purposes.  
It has now reached the end of its useful life: its facilities are outdated and no longer fit for purpose.  
The redevelopment was identified as a high priority in the City of Ballarat Community Infrastructure Plan 2022-2037
Project Highlights
A new multipurpose and fit for purpose community hub on the existing Eastwood Leisure Complex site
An important medium-sized conference and community event space for community celebrations, cultural events and meetings
Meeting rooms and spaces include 10 meeting / training rooms, 2 multipurpose activity rooms and a main hall
Improved toilets, storage, office and administration areas 
Community consultation
City of Ballarat has worked extensively with Eastwood Leisure Complex committee of management and user groups to develop concept plans for the redevelopment.
In July 2023, further feedback on these concepts was sought from users and local residents through a series of four drop in sessions on site at Eastwood and an online survey on mySay.
Community and stakeholder feedback is important, and this feedback will inform detailed designs to be developed during the 2023/24 financial year.  
Project Timeline
 

 

 

 

 

 

 

 

 

 

 

 

 

 

 

 

 

 

 

 

Development of concept plan with key stakeholders 

 

 

 

 

 

 

 

 

 

Eastwood Leisure Complex Redevelopment Community Survey and drop-in sessions 

 

 

 

 

 

 

 

 

 

Expression of interest submitted to Federal Government's Growing Region's program 

 

 

 

 

 

 

 

 

 

Review community feedback and final community consultation report 

 

 

 

 

 

 

 

 

 

 

 

 

 

 

 

 

 

 

 

 

 

 

 

 

 

 

 

Construction expected to commence 
Frequently Asked Questions
What will happen to the existing building?
Due to the age and condition of the current building, this project will involve a full demolition, excluding the stadium.
When is the redevelopment expected to start?
City of Ballarat is continuing to seek state and federal  government funding for the construction of the new community hub. It is anticipated that construction could commence in the 2024/2025 financial year.
How were the draft concept plans developed?
Key stakeholders from the Eastwood Leisure Complex Committee of Management contributed to the development of the draft concept plans. These plans were developed to support City of Ballarat's efforts to secure federal and state government funding to progress the project, and for the community to make comment on.
What impacts will there be to the surrounding environment?
We anticipate the project will not have an impact on the large trees on Short Street. However, as part of the project process there will need to be a full independent health assessment undertaken to make sure these trees remain safe.