Start a new routine
Have you found your usual routine has been thrown out the window? Sometimes it's a struggle to include those tasks you need to do each day, let alone the ones you'd love to start like painting the fence, cleaning out the gutters or scrapbooking your last family gathering. Setting up a schedule will help to build your new daily routine.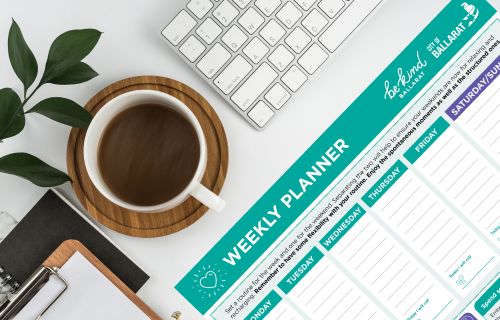 Routines can be comforting. They can create stability and order. With the tumultuous landscape we now find ourselves in, setting up a new routine could help give you purpose when you want to just stay in bed. Although routine sounds like hard work to set up and maintain, we've put together some tips and free resources to help you get started.
Get the kids involved, plan your week, and check in with your friends and family for inspiration.
Here's some tips to get you started:
Set a routine for the week and one for the weekend. Separating the two will help to ensure your weekends are now for relaxing and recharging
Include time for healthy activities. There are many YouTube channels that you can watch for yoga, pilates, meditation, kid's PE activities and dance parties. If you've always wanted to add in a yoga session before work, now's the time
Try to keep a regular sleep routine. If you've been struggling to get a full night's sleep, check out these fact sheets by the Sleep Health Foundation
Stay connected with your friends and family by setting up a weekly video call. Or reconnect with someone you've lost touch with
Spending time outdoors is invigorating and refreshing. Embrace your green thumb, go on a nature hunt with the kids in the backyard or start those outdoor projects you've bought supplies for but have been pushing aside
Definitely include some downtime on the couch. Reading a book, watching TV or having a movie night gives you the escape and distraction you might be craving right now. Frequent breaks are recommended though
Set a time to switch off your devices each day. It's important to disconnect, to reduce information overload and reset for tomorrow
Remember to have some flexibility with your routine. Enjoy the spontaneous moments as well as the structured ones.
For more information about why routines are good for your kids and you, have a look at the Raising Children Network.
Click here to download our printable kids planner template.
Click here to download our printable grown-ups planner template.