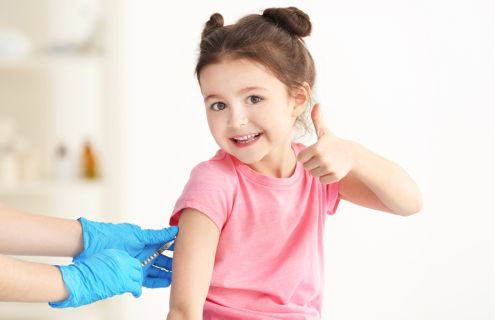 What vaccinations does my child need?
COVID-19 Immunisation Services
Our immunisation teams have implemented health screening measures prior to you attending you scheduled appointment. Only one primary care giver and a child can be present during immunisation.Extended family, siblings and partners are requested not to attend our facilities at present. These measures enable essential service delivery to continue, and protect families and the City of Ballarat health care workforce.
Our qualified immunisation nurses provide scheduled, funded vaccinations for children as per the National Immunisation Program.
For more information about the schedule of funded childhood vaccines provided in Victoria, please refer to the Department of Health and Human Services' Immunisation schedule and vaccine eligibility criteria. 
Where can I go to get my child vaccinated?
Tuesday
Wednesday
Thursday

Girrabanya Integrated Children's Centre

 

 

11B Steinfeld Street, Ballarat

 

Girrabanya Integrated Children's Centre

11B Steinfeld Street, Ballarat 

Lucas Community Hub

160 Eleanor Drive, Lucas

Girrabanya Integrated Children's Centre

11B Steinfeld Street, Ballarat

Lucas Community Hub

160 Eleanor Drive, Lucas

By appointment
By appointment
By appointment
To make an immunisation booking, please contact the City of Ballarat's Family and Children's Services team on 5320 5720.
Where can I go for vaccination advice?
For vaccination or medical enquiries, call Safevic on 9345 4143.
How do I keep track of my child's immunisations?
Vaccinations provided by our service are registered with the Australian Immunisation Register. Access your Immunisation History Statement on your MyGov (Medicare) account or call the immunisation register on 1800 653 809.
This statement will be required for your child to enrol to children's services and schools.
Can I get vaccinated at the City of Ballarat for an overseas trip?
What is the cost of vaccination?
Children with eligibility for a Medicare card will not be charged.
What are my other options?
Immunisation services are available through
GPs
community health centres
pharmacists
Aboriginal health services
Where can I get a flu injection?
An annual flu vaccine is recommended to prevent disease, reduce absenteeism and avoid flu complications.
Flu vaccines can be obtained from doctors, indigenous health services, pharmacists, hospitals and community health services. Ballarat Community Health provides a workplace flu vaccination program.
Page topics