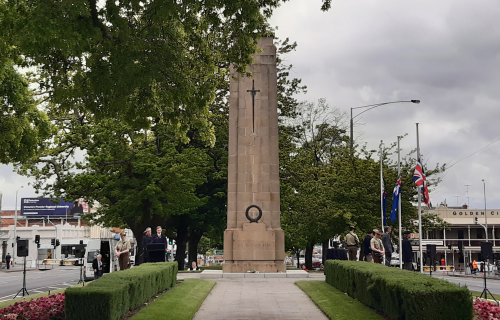 On 11 November 1918, the guns of the Western Front fell silent after four years of continuous warfare. With their armies retreating and close to collapse, German leaders signed an Armistice, bringing to an end the First World War. 
The Australian Corps had achieved a fighting reputation out of proportion to their numbers, but victory had come at a heavy cost. In the four years of the war more than 330,000 Australians had served overseas, and more than 60,000 of them had died. The social effects of these losses cast a long shadow over the post-war decades. 
Service Details
Arch of Victory/Avenue of Honour 
Friday 11 November 
9.30am to 10am 
Memorial Wall, adjacent to the Arch of Victory
Ballarat RSL 
Friday 11 November 
10.30am to 11.30am 
Ballarat Cenotaph, Sturt Street 
Buninyong RSL
Friday 11 November 
10.40am
The Buninyong RSL Memorial Park
Sebastopol RSL 
Friday 11 November 
10.50am 
Sebastopol Cenotaph, Albert Street 
Ex-POW Memorial
Friday 11 November 
11.45am to 12pm 
Ex-Prisoner of War Memorial 
Traffic Information
Cenotaph, Sturt Street: 
For the safety of participants and all road users, the following traffic alterations will be installed for Sturt Street between 10am to 12noon: 
Sturt Street eastbound will be closed between Lyons St and Dawson St from approximately 10am until 12noon. Detours in place via Mair St. 

Sturt Street westbound will remain open, but limited to one-lane traffic with speed limits reduced to 40km/h. 

Traffic will not be able to cross Sturt Street via the Lyons Street intersection in either direction. 
Short delays are expected; therefore, all road users are reminded to approach the area with caution and follow the direction of traffic marshals and police. 
Pedestrian access to shops and services will remain accessible. 
For more information about the Remembrance Day service please contact the Ballarat RSL branch on (03) 5332 3300 or for more details regarding traffic management and other event operations contact council's events unit on 03 5320 5500 or email events@ballarat.vic.gov.au. 
Commemoration Ideas
There are many ways to commemorate from wherever you are - at home, school or work - this Remembrance Day: 
Read one of hundreds of articles about our veterans and their service 

Make your own poppy or Remembrance wreath 

Take a virtual tour inside the Hall of Memory 

Share who you are remembering during the one minute's silence on Remembrance Day using the hashtag #WeRememberThem on social media