Volunteering for our community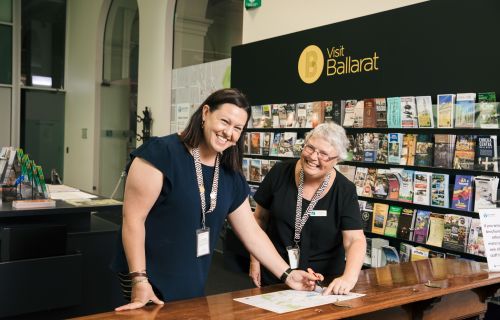 For Leanne Neville, being a Ballarat Ambassador is a perfect fit.
"I love meeting new people and I love travelling," she says.
Leanne says the most important part of the role is creating a helpful and positive experience.
"It's about connecting with every person who comes in."
The Ballarat Information Centre is located at the Town Hall and provides daily assistance and information to visitors to our city.
City of Ballarat Visitor Economy Officer Erin Vanzetta says the team of staff and volunteers work hard to make every visitor feel welcome.
"We want to give them a personalised service tailored to the experience they are looking for," Erin says.
Erin says the team loves sharing their passion for all of the wonderful experiences we have in Ballarat.
"We want to make sure our visitors know all about our hidden gems, our wonderful characters and our creative spirit."
As well as the things Ballarat is known for, Leanne loves recommending the lesser-known and smaller experiences.
"Ballarat is really foodie now. We've also got a great live music scene with little piano bars as well as lots of small galleries tucked away in hidden spaces.
Then there are all the great walks you can do around the region.
"Most people are blown away by how much we have here."
We need Ballarat Ambassadors!
Are you a local with a range of interests who would enjoy sharing your passion for our beautiful city?
The City of Ballarat is seeking volunteers for the Ballarat Information Centre.
Leanne encourages anyone who loves meeting different people and having a chat to apply for a volunteer position at the Ballarat Information Centre.
"It's the best thing. I've never worked with such a great bunch of people," she says.
Volunteer with us
The City of Ballarat has hundreds of volunteers who provide assistance and expertise across a range of areas, including the Ballarat Information Centre, at the Ballarat Animal Shelter, the Art Gallery of Ballarat, Meals on Wheels, Intercultural Services, Events, and Home Library Services.